As conservative groups are being targeted by the IRS and nothing is being done about it, another alarming trend is happening throughout the country with political profiling.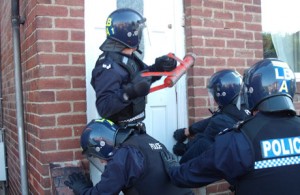 One such example is a farming family in Letha, Idaho who recently had their house raided and were assaulted by police after a neighbor called the police when overhearing a verbal argument between the husband and wife who owned the house. In any other situation they would have had a simple knock on their door and the police would check in to make sure that no one was being hurt.
However, Marcella Cruz and Michael Gibbons were flagged in the police department's database as dangerous individuals because one or both of them identified as "constitutionalists". Due to this identification their simple domestic disturbance call was met with a full on swat raid.
The officers ripped Marcella Cruz out of the house, and had both her and Michael on the ground in handcuffs, with guns against their heads. The police found an aquaponics system that was growing tomatoes in an upstairs room of the house and celebrated, thinking that they had found a Marijuana grow operation. Much to their disappointment they were informed that it was obviously tomatoes, since after all, this was a farm house.
In a recording that surfaced after the raid it is explicitly stated that this couple is being targeted because of their political beliefs. The recording shows the following exchange:
"Are you familiar with these guys?" asked a deputy identified in the 911 recordings as "Officer 57."
"Negative," answered another deputy designated "Officer 56."
"I am, and it's affirmative, there is [sic] weapons," continued Officer 57. "He is – or at least was – anti-law enforcement. We've had issues with him. He's a Constitutionalist."
In the video police don't identify themselves before entering the house, and you can see them rush the house like thugs, ripping Marcella Cruz out by her arm and throwing her to the ground. The brutal treatment she was given by police left her sore and bruised for weeks, which is sadly ironic considering they were called to the house over a bogus domestic disturbance call that was made by a feuding neighbor.
This is just one of many recent situations throughout he country with a string of cases where American citizens are being targeted with extreme force because their political beliefs were flagged in government databases.
[youtube 4w6G-yXvkKA nolink]