When we think Islam cannot be any more sick, now Muslim parents who are promoting "martyrdom" for teens and even newborn infants by posing them with grenades, pistols, ammunition and automatic weapons in images on social media, according to a startling new report from the Middle East Media Research Institute (MEMRI).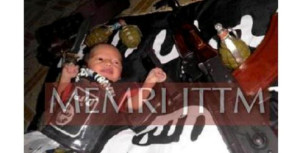 These are the future generations of Islam, if you think they are bad now wait until you see these newborns grow up filled with hate. Dozens of images, confirmed the practice of teaching muslim children to embrace violent jihad against Islam's enemies, the non-Muslim.
"Children's deaths in fighting are being glorified in the muslim videos and photos circulated online and in social media," MEMRI said. "In a November 2012 video, a Syrian boy, who appears to be about 10, digs his own grave and expresses his wish for 'martyrdom.'".
Something you would find in no other religion, Muslim parents actually celebrate their teens' Going To Jihad In Syria". Over the past year, there have been numerous reports of Muslim parents celebrating their teenage children's departure to join the jihad in Syria, and many congratulations and celebrations, including images of sweets, on Twitter and other social media outlets, for this.
The Muslims are taking "pride in the 'next generation's of Muslims that they are raising," the report said. "Children are filmed praising Osama bin Laden, saying that they want to 'conquer Rome' and to 'slaughter infidels.
The report featured photos of very young children dressed like soldiers, children training in al-Qaida camps and schoolchildren, particularly in Syria, being taught jihad.
One image shows a baby only months old lying on his back. Two grenades are at his head and a gun is by his hand, even though he never could hope to pick it up. Another grenade is beyond the gun, and the caption is: "Breastfed pride! One of the lion cubs of #Ansar al-Sharia in Yemen"
Islam: Promoting The Culture Of Death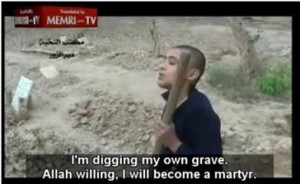 Children's deaths in fighting are being glorified in videos and photos circulated online and in social media. In a November 2012 video, a Syrian boy, who appears to be about 10, digs his own grave and expresses his wish for "martyrdom."
Other images show what appears to be a young girl, maybe 2 years old, wearing a hijab and standing between camo- and black-clad adults. She is resting her hand on a gun outfitted with a shoulder stock.
The caption is; "#Islamic State in Iraq and Syria – A nice picture"
Another bears the caption: "The challenging look in the eyes of this lion cub is enough!" It shows a young child holding what appears to be an automatic rifle.
Attached to an image of a 3-year-old boy carrying a rifle is: "The cubs of #ISIL are coming to slaughter you."
Then the images turn gruesome, with side-by-side images of "Abu Anas Al-Ansari," who is described as "14 years old and one of the youngest mujahideen martyred." The images are of the child alive and then dead.
"The Next Generation Of Mujahideen"
In December 2009, the Ansar Al-Mujahideen website posted online its compilation of videos of jihadi children, titled "The Next Generation of Mujahideen."[17] The video identifies the jihad groups worldwide to which the children belong, and shows them training, giving speeches, chanting, and praying.
A little boy: "My dear Islamic nation, what I have to say to you is no light matter. Allah the Exalted said: in the revelation [Koran 33:23]: 'Among the believers are men who upheld the covenant they made with Allah. Some of them have fulfilled their vow through death [in battle], and some are still waiting; but they have never altered in the least.'
Things so sick in Islam a child sings about innocents Americans murdered on Sept 11th, the Muslim child leads a large Muslims crowd in chorus: "Our Leader Is Bin Laden… We Have Destroyed America With A Civilian Airplane"
Children also sing at rallies held in Syrian towns and villages. In one such rally, in the town of Binnish, a boy sang a song of praise for Al-Qaeda and Osama bin Laden, brandishing a dagger and vowing to "slaughter" the Shi'ites.
By their own accord these Muslims say they are inspired to murder from Mohammad the founder of Islam and the teaching within the Qu'ran, the Muslims equivalent to the Bible, but it teaches the direct opposite message of hate, murder and terrorism.
Many naive westerners confuse Islam to be like other religions, and think it is peaceful, like Christianity for example with teaching of love your enemies, forgive and turning the other cheek. In reality it is a religion based on hate, murder and killing to take lands from others and convert the occupants to the barbaric death cult of a religion called Islam.  If there is a Satan, and considering there is Islam there probably is, then Islam is his representation on Earth.

See the full report. (Warning: The images are disturbing)