WASHINGTON, D.C. – It would have been the 103rd birthday of Ronald Reagan, an American president known for his frankness, and for possessing the courage to confront those countries who would threaten the freedom and security of the United States and her allies.
Thursday (Feb. 6) was an auspicious occasion, then, for EMPact America
's latest symposium, entitled "American Security and the Iranian Bomb: Analyzing Threats at Home and Abroad."
Political leaders and persons of influence from the Beltway and beyond gathered at the Reserve Officers' Association – a mere stone's throw from the Capitol building—to hear a public conversation with former CIA Director James Woolsey and rising GOP star Senator Ted Cruz (R-TX), moderated by Frank Gaffney, president of the Center for Security Policy. Following the dialogue with Woolsey and Cruz, Congressman Trent Franks (R-AZ) delivered his own remarks, and was honored with EMPact America's "Guardian of the Grid" award, for his efforts to raise awareness of the looming EMP threat.
Gaffney, an renowned expert on national security affairs, kicked off the gathering by briefing those in attendance on the nature of the threat. In a grim but poignant assessment, he explained the various ways in which an Electromagnetic Pulse weapon (or even a naturally-occurring solar storm) would most likely devastate our nation's energy infrastructure, leading to death tolls projected in the millions – as many as 9 out of every 10 Americans.
"This is a catastrophe that we can not fix after it happens," said Gaffney, "…the good news is that we can prevent it."
He went on to explain the various ways in which the United States could "harden" its electrical grids against attack or natural disaster.
Indeed
, Henry Schwartz, prominent New York-based entrepreneur and founder of EMPact America, raised this very issue, maintaining that EMP countermeasures are neither a recent development, nor are they out of America's financial reach.
Referring to such technologies as "affordable," he announced that "our government has been using EMP protection within the military and its continuity plan since the Cold War. The President and his men are well protected against EMP, including when traveling in Air Force One … however, you, and your loved ones, and the things you depend on to live, are not protected."
"But you could be protected!" Schwartz exclaimed.
During the dialogue, former Director of Central Intelligence Jim Woolsey (who also served as an ambassador in nuclear disarmament talks between the United States and the Soviet Union), confirmed Schwartz's claims. Having crunched the numbers himself, Mr. Woolsey said, he estimated that a tax equivalent to $3 on every U.S. citizen would provide sufficient funds to retrofit electrical grids across the country, shielding them from an EMP event.
Spending several minutes discussing the various "flavors" of EMP, Mr. Woolsey explained in detail the havoc that would be left in their wake. Of 18 key infrastructures that keep American life running, says Woolsey, 17 are run on electricity. He therefore referred to the type of EMP weapon that would run along our electrical grids, knocking out transformers, as a "real carrier of death."
He stressed the urgency of the matter, saying: "We rarely, if ever, have an opportunity to make a huge contribution to our security – and that's security not just from enemies, but security from the sun (and that latter one is inevitable no matter what we do with our foreign policy) – and we have an opportunity to do some of these things quickly. But the system is not working in such a way as to make it happen."
Soliciting the support and suggestions of those in attendance, Woolsey added that "this is one of those things that comes along perhaps once in a century or so that we just have to do. We are toying with the real possibility of the complete destruction of our society."
Whereas Mr. Woolsey was able to provide an analytical intelligence-oriented perspective on the EMP threat, Sen. Ted Cruz was able to offer a more political point of view. He didn't mince words. Senator Cruz decried what he saw as the popular misconception that Iran's new president represents a more progressive government.
"The press has described Rouhani as a 'moderate' because, I guess, he uses Twitter, so he can't be all bad," the senator wryly observed. "If you look at just what they say in their own words… [Supreme Leader Ayatollah] Khamanei on November 20th, 2013, said 'the Zionist regime is a regime whose pillars are extremely shaky, and is doomed to collapse. Israelis 'should not be called humans.'"
"This isn't a decade ago," Cruz emphasized, "this is November of 2013."
Cruz also went on to quote social media posts by the Iranian cleric describing Israel as the "sinister, unclean, rabid dog of the region," as well as quotes by President Rouhani and other sources in the Iranian administration and military, each alluding or directly referring to the annihilation of the Jewish state.
The senator from Texas expressed an implied interdependency between the safety and security of the United States, and that of Israel, as did several other speakers in attendance. He expressed the concern that the moment Iran obtains a nuclear arsenal, it could be turned on Tel Aviv, New York
, Los Angeles, or indeed
, major cities throughout the western world.
Yet rather than viewing Israel as a liability, Cruz declared that he takes comfort in the fact that "if Iran gets too close to acquiring nuclear weapons capability, I have an enormous degree of confidence that Israel will act to protect her right to exist as a Jewish state. And if Israel acts and launches a military attack to take out Iran's nuclear weapons capability, it is difficult to think of an action that would perform a greater service for U.S. national security interests."
Concluding the morning's proceedings was Congressman Trent Franks (R-AZ-8), who was presented by war hero and EMPact America
President David Bellavia with the organization's Guardian of the Grid Award. Franks expressed an unwaveringly pro-Israel stance similar to that espoused by Sen. Cruz. He also took the opportunity to criticize U.S. President Barack Obama for focusing more attention on condemning Israel for building houses "in their own capital city," than on preventing a hostile regime from obtaining nuclear weapons.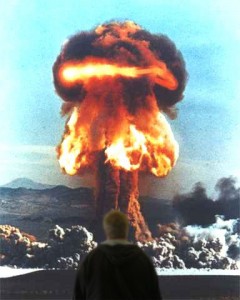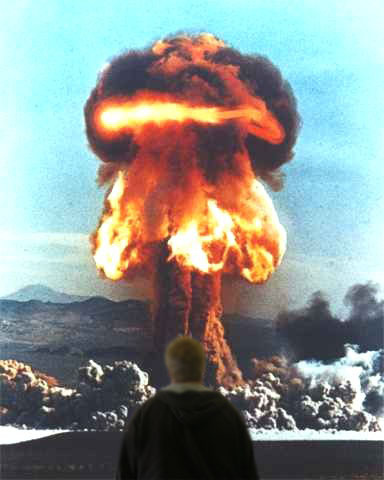 The congressman recounted his efforts to bring greater attention to the danger posed by Iran, and how his warnings until recently had fallen on deaf ears.
Rep. Franks did conclude, however, on an optimistic note. Speaking directly to the audience, he declared that "all the efforts that you make are going to be worthwhile."
"There is a moment in the life of every problem where it is big enough to be seen and understood, but still small enough to be addressed. And you and I are living in that moment." Rep. Franks went on to express the pride he felt for those at the conference, and encouraged them to "keep storming the gates."
While Iran's nuclear agenda, and the threat of an EMP attack do not appear to be at the top of the Obama administration's list of priorities, the EMPact America
conference nonetheless demonstrated that there are those in the House, the Senate, and the intelligence community, who recognize these as top priority issues, and will continue to sound the alarm until the U.S. commits to a decisive and meaningful response.
To learn more about EMPact America
and their work, and to view footage from the conference, visit www.HomelandThreats.com