February 13, 2014 21:46
by Alex Margolin
Today's Top BDS Stories:
1. Alan Dershowitz lists 10 reasons why the BDS movement is immoral and serves as an obstacle to peace. How many more can we add to the list?
2. Scarlett Johansson thanks supporters through her publicist. Meanwhile, a writer looks at Oxfam's links to Coca-Cola, a key SodaStream competitor, adding more fuel to the argument that the NGO's discomfort with Johansson endorsing the product was based on something other than principles.
3. An organic settlement boycott movement is building in Israel, according to a report by the AP.
Israelis who may have long supported peace but also considered the settlements no big deal are starting to ask why Israel continues building there in the face of what looks like a rare global consensus against them verging on outrage.
And even among Israelis who consider the West Bank Israel's by right, there seems to be some discomfort now with continued investment in the West Bank instead of a genuine effort to address an internal housing crisis and other social ills in Israel.
Although no formal movement exists, a de facto distancing from the settlement enterprise is increasingly evident, especially in people refraining from buying settlement products ranging from wines to organic produce and cosmetics made from the Dead Sea
Other BDS-Related Content:
* Ken Loach, noted film director and BDS supporter, is set to receive an honorary Golden Bear, the highest honorary award at the International Film Festival in Berlin.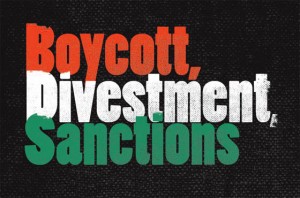 * Although PA officials famously declare they are opposed to boycotts against Israel, Jibril Rajoub, chairman of the Palestinian Football Association, announced plans to demand Israel's expulsion from FIFA and the International Olympics Committee, apparently on the grounds of travel restriction for Palestinian athletes.
The BDS movement considers bans from sporting institutions one of the pillars of its boycott call: "Boycotts target products and companies (Israeli and international) that profit from the violation of Palestinian rights, as well as Israeli sporting, cultural and academic institutions."
* Evelyn Gordon looks at the recent BDS losing streak, and notes that even the apparent successes, like the Dutch pension divestments, amount to less than BDS wants people to think.
Many recent BDS "victories" are actually optical illusions. Take, for instance, the announcement by Denmark's largest bank that it's divesting from Bank Hapoalim. But as Hapoalim pointed out, "Denmark's Danske Bank has no investments, of any kind, with Bank Hapoalim." Similarly, the Norwegian Finance Ministry recently ordered its sovereign wealth fund to divest from two other Israeli companies–but again, the fund had no investments in those companies.
Such "faux boycotts" are obviously still damaging, because they create the illusion that BDS is gathering steam. Nevertheless, they're a far cry from real boycotts that do real economic damage.
* Israel expanding trade around the world to prepare for the possibily of European boycotts.