Jimmy Fallon replaced Leno — who was seen as the one late-night host with a welcome mat out for the GOP — and moved "The Tonight Show" back to New York City after decades in Hollywood. Beyond the location, expect another big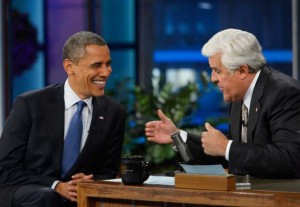 departure from Leno: Not nearly as many heavy-hitting political jokes or guests.
Fallon's Obama-friendly sketches and interviews have become immediate "news" grist for the Comcast corps at NBC and MSNBC. The same sensation happens when Fallon is ripping into a Republican.
Fallon has been especially eager to help Michelle Obama promote her image. On Feb. 7, 2012, he aired a "Let's Move" video in the East Room of the White House, featuring a slow-motion potato sack race with the first lady to the soundtrack of "Chariots of Fire." (She won, of course.) On Feb. 22, 2013, Fallon dressed as a woman to dance with Michelle and illustrate "The Evolution of Mom Dancing." That video went viral. During that show, Fallon even asked if Michelle would run with Hillary Clinton for president: "Can I ask you another thing to think about — I said it here first – Dream Team, Michelle and Hillary '16.
When Romney appeared to "slow jam the news" a few weeks ago, Fallon just "had" to make fun of his gaffes. Romney explained: "I'm not running again. There are a lot of great candidates for 2016, and I'll be supporting the Republican nominee 100 percent." Fallon shot back: "Don't you mean 47 percent?" Romney replied, "That's a low blow — but it's pretty funny." Fallon said, "I had to do it."
He's right. That's what comedians do. So why can't he do likewise with Obama?
Romney's response was classy and brings up the obvious point just made in a New York magazine interview by longtime "Saturday Night Live" boss Lorne Michaels, who is helping to run both the Fallon show and the new Seth Meyers show after him on NBC. When asked about the rules for political satire, Michaels replied: "Republicans are easier for us than Democrats. Democrats tend to take it personally; Republicans think it's funny."
Republicans can laugh at themselves, even when they're being mocked. Not Democrats. They have thin skin because they expect every comedian to fall at their feet — like Fallon does with the Obamas.
There will definitely be less pure politics without Leno, experts said. While Leno and "Late Show" host David Letterman have relied heavily on politics in their monologues and had many politicians on as guests, Fallon turns political only when there's a story so big it can't be ignored, Johnny Carson initiated political humor on late night, but Leno put it on steroids,Leno always told far more political jokes than anyone else.
Longtime Republican strategist Mark McKinnon, who has advised the presidential campaigns of McCain and George W. Bush, said losing Leno is a loss to "bipartisan political comedy."