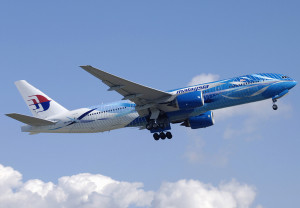 A Malaysia Airlines flight with 227 passengers on board – including two adult Americans and an infant – has gone missing and a search and rescue team has been deployed to locate the aircraft, a spokeswoman has confirmed to ABC News.
Flight MH370 departed Kuala Lumpur at 12:55 a.m., and was scheduled to land in Beijing at 6:30 a.m., the airline said. It went missing two hours into the flight and disappeared off the radar at 065515 North (longitude) and 1033443 East (latitude).
The airline said there are 227 passengers, including two infants, and 12 crew members on board the Boeing 777-200 aircraft.
Foreign ministry officials in Rome and Vienna confirm that names of two nationals listed on the manifest of the missing Malaysian airlines flight match passports reported stolen in Thailand.
Italy's Foreign Ministry said Saturday that an Italian man whose name was listed as being aboard is traveling in Thailand and was not aboard the plane.
The airline's website said the flight was piloted by Cap. Zaharie Ahmad Shah, 53, a Malaysian. He has 18,365 total flying hours and joined Malaysia Airlines in 1981, the website said. The first officer is Fariq Ab.Hamid, 27, a Malaysian with a total of 2,763 flying hours.
The plane's route would take the aircraft from Malaysia across to Vietnam and China. Vietnam said on its official website that its air traffic controllers lost contact with the plane "in Ca Mau province airspace before it had entered contact with Ho Chi Minh City air traffic control." Ca Mau is near the southern tip of Vietnam.
The plane was meant to transfer to Ho Chi Minh City air traffic control at 1722 GMT but never appeared. There is one recent blemish for the Boeing jet: An Asiana Airlines Boeing 777 carrying 291 passengers struck a seawall at San Francisco International Airport in July 2013, killing three people and wounding dozens more.
"It doesn't sound very good," retired American Airlines Capt. Jim Tilmon told CNN's "AC360." He noted that the route is mostly overland, which means that there would be plenty of antennae, radar and radios to contact the plane.
"I've been trying to come up with every scenario that I could just to explain this away, but I haven't been very successful."
He said the plane is "about as sophisticated as any commercial airplane could possibly be," with an excellent safety record.
"The lack of communications suggests to me that something most unfortunate has happened," said Mary Schiavo, former inspector general of the U.S. Department of Transportation, in an interview with CNN International. "But that, of course, does not mean that there are not many persons that need to be rescued and secured. There's still a very urgent need to find that plane and to render aid."
The oil slicks were spotted late Saturday off the southern tip of Vietnam and were each between 10 kilometers (6 miles) and 15 kilometers (9 miles) long, the Vietnamese government said in a statement. There was no confirmation that the slicks were related to the missing plane, but the statement said they were consistent with the kinds that would be produced by the two fuel tanks of a crashed jetliner.
Malaysian officials investigating the disappearance of a Malaysia Airlines jetliner Saturday said they were not ruling out Islamic terrorism. The largest religion in Malaysia is Islam, whose followers make up 61% of the population. Islam is recognized as the state religion of Malaysia.
Malaysia Airlines CEO Ahmad Jauhari Yahya said there was no indication that the pilots had sent a distress signal, suggesting that whatever happened to the plane occurred quickly and possibly catastrophically.