If it works in Belgium and the Netherlands, could it also work in the Middle East? Channel 2 News reported on Sunday that Prime Minister Binyamin Netanyahu is looking into the option of applying a Dutch-Belgian enclave model to the peace agreement between Israel and the Palestinian Authority (PA).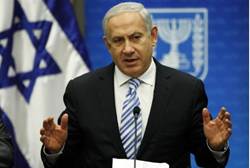 According to the report, Netanyahu has directed Cabinet Secretary Avichai Mandelblit to look into this issue and submit a report on its possible implementation.
Netanyahu is basing his idea on the Belgian municipality of Baarle-Hertog, which has some territory made up of exclaves in the Dutch province of North Brabant. The total area of the region is 7.48 square kilometers (2.89 square miles) which gives a population density of 308 inhabitants per km² (798 inhabitants/sq mi).
Baarle-Hertog consists of 24 separate parcels of land. There are twenty Belgian exclaves in the Netherlands and three other sections on the Dutch-Belgian border. There are also seven Dutch exclaves within the Belgian exclaves.
According to Channel 2 News, Netanyahu wishes to find out whether it is legally and practically possible to reach a similar solution with the PA. Doing so would leave any Jewish communities of Judea and Samaria in enclaves within the Palestinian state. Under the Dutch-Belgian model, Belgian citizens who reside in the Netherlands are also considered local citizens who maintain their rights.
The report comes on the heels of an interview with Netanyahu on Friday, in which he said that not all the communities in Judea and Samaria will be part of Israel in a peace agreement, but that he will do his utmost to ensure that as many as possible do remain under Israeli control.
"It's obvious that some of the settlements will not be part of an agreement. Everyone knows that. I will ensure that it's the smallest number possible, if we get to that point. And I will not abandon any Israeli," he said.
There was no official comment on Sunday's report from the Prime Minister's Office, but MK Omer Bar-Lev (Labor) rejected the idea, calling it "crazy".
"The idea of enclaves is a crazy one from a security standpoint," said Bar-Lev, formerly the commander of the IDF's elite Sayeret Matkal unit. "I hope that the Prime Minister is only trying to create a spin and is not seriously thinking about this idea, primarily because it would endanger the security of Israeli citizens who would remain in those theoretical enclaves."
He continued, "Israel has no reserves of land to give to the Palestinians that would allow it to retain large areas beyond the settlement blocs without giving away land located within the Green Line. The Prime Minister must stop running away from the complicated reality and unequivocally decide on a separation from the Palestinians that will allow Israel to fulfill its national goals."
Netanyahu's plan is not likely to be accepted by the PA, considering that its Chairman Mahmoud Abbas has reiterated several times there will be no official Israeli presence in the future Palestinian state.
Netanyahu's remarks in the interview have been criticized by nationalists. On Sunday, Economy Minister Naftali Bennett said that despite what Netanyahu said, all Jewish towns in Judea and Samaria would remain under Israeli sovereignty.
Bennett declared that "the whole Land of Israel is a single bloc. There are those who say we can build inside the settlement blocs, and others who say we may not be able to hold onto the towns outside the blocs. I have come to tell you what the Arabs already know – that the Land of Israel is one bloc."
Deputy Defense Minister Danny Danon (Likud) also criticized Netanyahu, saying, "The Likud's position is to build and not to destroy. The Likud will not be a party to expulsions of Israelis from their homes, to conceding lands and to destroying communities. We already handed over territory in the past and in return we got rockets on Israeli cities."
The people of Israel, added Danon, "are no longer disillusioned by the equation of land for peace, because in essence it is land for terror."
Source material can be found at this site.