The head of a Gaza-based jihadist group warned on Sunday that there are several thousand Al-Qaeda-inspired terrorists in Gaza.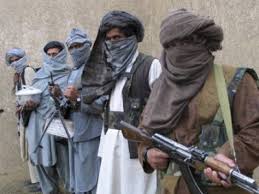 Speaking to The Associated Press (AP), the terror leader, Abu Bakir al-Ansari, said that these terrorists pose a formidable threat to both Israel and Gaza's Hamas rulers.
Al-Ansari described a movement that is larger and better organized than is generally believed, with dozens of fighters now in Syria, and claimed his group killed an Italian activist three years ago. He added that Gaza's Salafis have agreed with Hamas to observe a truce with Israel for the time being, but that they are ready to fight at any time.
"We have a deal with Hamas to abide by the truce as long as Israel abides," Abu Bakir told AP. "But once it violates the truce, we fire our rockets without any consultation with Hamas."
Abu Bakir, who refused to be identified by his real name, claimed he has survived three Israeli assassination attempts. He told AP he was a former member of Hamas, but broke away after the group agreed to participate in parliamentary elections in 2006. He was later arrested by Hamas for allegedly forming "terrorist groups" and "harming national interests" for firing rockets into Israel during a time of truce, and for attacking hair salons and other shops.
Abu Bakir told the news agency he spent three years behind bars and was beat and kept in solitary confinement by Hamas.
He also revealed that since late 2012, Salafi groups have formed a loose alliance.
"We are six groups and we have thousands of fighters, maybe 4,000," he told AP.
Under the truce agreement, he revealed, the Salafis have halted attacks on shops, hair salons and coffee shops after Hamas provided assurances there would be no drinking of alcohol, racy movies or mixing of the sexes in these places.
"If Hamas stops preventing the bad things in these places, we will return," he declared.
Abu Bakir said the group has halted attacks on Christians, as long as they "abide by the rules." That means no public displays of crosses, and consumption of pork and alcohol  must take place in private. He further claimed that 100 Gazans have gone to Syria to battle the regime of President Bashar Al-Assad, and 10 have been killed so far.
Although Hamas, like its parent group the Muslim Brotherhood, is more observant of Islam than the secular Fatah faction, Salafi groups hold the ruling faction in contempt and hope to instead wrest control of Gaza from Hamas and install a Sharia-bound regime instead.
Hamas has cracked down on the Salafists, who have claimed responsibility for some of the rocket attacks on Israel, and has been arresting them for several years.
In December, an Al-Qaeda-inspired group said it had infiltrated Judea and Samaria as part of its war against "the Jews," Christians, infidels and the Palestinian Authority.
That claim came after Israeli security forces killed three Salafi terrorists in Hevron, foiling a huge terror attack.
Salafists have also been a problem for Egypt, carrying out terrorist attacks in the Sinai Peninsula and firing rockets from there at the southern Israeli city of Eilat.
Source material can be found at this site.