By Peter Paton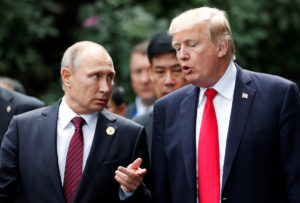 Dear President Putin
The Common Enemy to Russia and the West is Radical Islamic Terrorism and they should not be allowed to obtain Nukes and Weapons of Mass Destruction. Russia has its own severe problem with Islamic Extremism in Chechnya and 300,000 Tatar Muslims in the Ukraine.
Therefore we the Democratic West would like to lay before you our shopping list of must do's, if you wish to retain your perceived eminent status as a World Leader Par Excellence.
It's called for want of a better word " Doing the Right Thing ", and join please with President Trump and the Western Bloc, and reset the World to make it a better place for all to live in.
They consist of the following.
1. Russia  should use its influence and connections to prevent the Islamic Regime of Iran ever acquiring Nuclear Weapons, support Human Rights in Iran, and end the Despotic rule of the Mullah Hardliners.
2. Russia should force President Assad of Syria to stand down from power so that Free Democratic Elections can be held in Syria, to allow a Transitional Syrian Government to take shape.
3. Russia should use its influence to help shape a Middle East Peace Accord between the Israelis and the Palestinians.
Three Requests, but Three Salient Requests that shape the Future of Mankind to come, and as to whether Peace or World War will rein on Planet Earth. You President Putin above all others, have the Power to answer these Three Requests Affirmatively. Do this President Putin and you will go down in the Annals of History as the Man who answered the Clarion Call of Almighty God.
Peter Paton is an International PR and Strategic Adviser
Follow Peter on Twitter @pjpaton
E Mail [email protected]