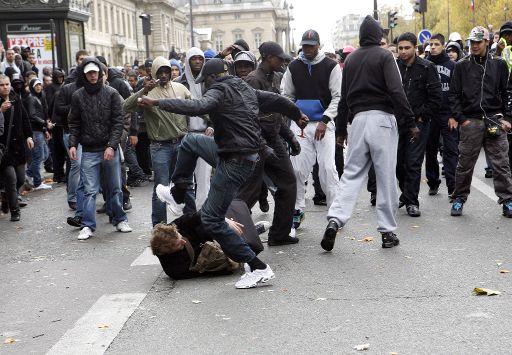 As Whites are quickly becoming a minority in the USA racism is on the rise and government programs that discriminate against individuals specifically whites are legal and growing under Obama. Also crime against whites is on the rise, a new game called 'knockout' where Black are attacking whites is spreading throughout the country.   Pat Buchanan's recent column ("Black America versus Obama?") has some amazing stats on Black employment by the federal government:
Though 10 percent of the U.S. civilian labor force, African-Americans are 18 percent of U.S. government workers. They are 25 percent of the employees at Treasury and Veterans Affairs, 31 percent of the State Department, 37 percent of Department of Education employees and 38 percent of Housing and Urban Development. They are 42 percent of the Equal Employment Opportunity Commission and Pension Benefit Guaranty Corp., 55 percent of the employees at the Government Printing Office and 82 percent at the Court Services and Offender Supervision Agency.

When the Obama administration suggested shutting down Fannie Mae and Freddie Mac, the mortgage giants whose losses of $150 billion have had to be made up by taxpayers, The Washington Post warned, in a story headlined, "Winding Down Fannie and Freddie Could Put Minority Careers at Risk," that 44 percent of Fannie employees and 50 percent of Freddie's were persons of color.
There is no way that these percentages for Black employment could not happen without discrimination against Whites. I should think a lawsuit would be in order.
Recently Obama has hosted an openly racist event at the White House to unveil his new racist plan based on a US citizens skin color, it called the "My Brother's Keeper" initiative, to make sure that only young man of color will have government help, young white men need not apply. Under Obama we are not US citizens, but Black people, Latino people, Asian people and White people.
Here is some past cases on racism in the USA.
---
The following are some of the significant cases in this area. They are offered as a start to understanding the issues, and are not intended as a substitute for obtaining legal advice from DOI's Solicitor's Office or private counsel. These summaries are intended neither as a legal analysis regarding specific matters, nor as a complete review of the topic.
McDonald v. Santa Fe Trail Transportation Co., 427 U.S. 273, 96 S.Ct. 2574 (1976). Two White employees and one Black employee were charged with stealing property from their employer. The two White employees were fired while the Black employee was retained. In the first big reverse discrimination case, the Court decided that Title VII is not limited to discrimination against minority persons, but includes discriminatory actions against majority persons as well.
Middletown v. City of Flint, 92 F.3d 396. (6th Cir. 1996),

 

cert. denied

 

117 S.Ct. 1552 (1997). Challenge by White police officers passed over for promotions because of voluntary affirmative action plan involving a 50% set aside of promotions to Sergeant for racial minorities. Court found plan to be an "unnecessarily drastic remedy."
Police Association of New Orleans v. City of New Orleans, 100 F.3d 1159 (5th Cir. 1996). City's race conscious promotions violated Equal Protection Clause because they were not narrowly tailored.
Hopwood v. Texas, 78 F.3d 932 (5th Cir. 1996),

 

cert. denied

, 518 U.S. 1033 (1996). Strikes down the race-conscious admissions program of the University of Texas Law School. The school used lower minimum criteria for African American and Mexican American candidates than for other candidates. The Court held that obtaining a racially diverse student body is not a compelling interest under the 14th Amendment.
Harding v. Gray, 9 F.3d 150 (D.C. Cir. 1993). D.C. Circuit interpreted McDonnell Douglas (described in our "Civil Rights Cases" category in list at left) to require an additional showing for White plaintiffs in reverse discrimination cases over and above what would be required by minority plaintiffs. The court held that, because racial discrimination against White persons is so rare, in order to establish the necessary inference of discrimination, White plaintiffs must prove "background circumstances" that "support the suspicion that the defendant is that unusual employer who discriminates against the majority." This can be done by showing that plaintiff was better qualified than the minority applicant whom the employer selected.
Lucas v. Dole, 835 F.2d 532 (4th cir. 1987). The Fourth Circuit refused to adopt the D.C. Circuit's "background circumstances" requirement and instead applied McDonnell Douglas test in the same way to White and Black plaintiff. White plaintiff satisfied her burden in this case where she showed that she was more qualified than the selected minority applicant, that the interviewing process was too subjective, that the minority applicant had received irregular acts of favoritism, and that other employees believed that race was a factor.