Turkey has already blocked Twitter and YouTube, and more could be on the way.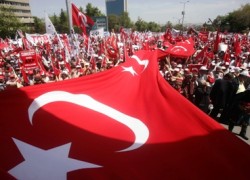 According to the Reuters news agency, government sources in Ankara said on Thurday the country could block access to other social media platforms if users publish recordings or documents which "threaten national security."
Earlier, Turkish telecoms regulators moved to block YouTube after an anonymous account posted what it presented as a leaked recording of a discussion between the country's intelligence chief, deputy head of the armed forces and foreign minister about possible military operations in Syria.
Officials from the United States and the European Union condemned the blocking of YouTube, reported the Hurriyet newspaper.
Marie Harf, U.S. State Department deputy spokesperson, answered a question on the issue during Thursday's daily press briefing. She said that Washington is against any violation of free speech and calls Ankara to unblock access to YouTube, as well as Twitter.
The U.S. Mission to the Organization for Security and Cooperation in Europe (OSCE) raised the Turkish government's blocking of Twitter at the OSCE's Permanent Council session on Thursday, according to the Hurriyet.
After voicing concern over the ban, Daniel B. Baer, the American ambassador to the OSCE, called on Turkey to refrain from adopting similar "unlawful limitations."
The blocking of YouTube came just one day after a Turkish court ordered the suspension of the nation-wide ban on social media site Twitter.
While the court ordered Turkey's telecommunication authority TIB to reinstate the site, TIB has 30 days to decide whether or not to comply.
Twitter was banned a week ago in Turkey, just hours after Prime Minister Recep Tayyip Erdogan warned that he would "eradicate" the social network.
The move was met with harsh criticism by the United States on Friday.
State Department spokeswoman Jen Psaki said the order to prevent Turks from accessing the site was "contrary to Turkey's own expressed desire to be a model of democracy."
"The United States supports freedom of expression in Turkey and opposes any action to encroach on the right to free speech," she told reporters.
Erdogan later defended the ban and said he had given the order to block the site because it was not obeying Turkey's laws.
Source material can be found at this site.