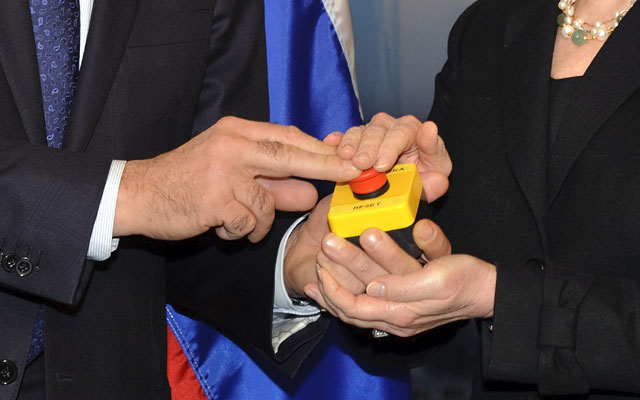 President Obama's former Ambassador to Russia and self-described author of the Russian reset policy Michael McFaul today admitted the obvious: the reset is dead. In a radio interview with the Flint Report in Montana, McFaul stated, "The reset ended, the reset ended a long time ago."
McFaul is correct that the Russian reset is dead; however, the reset was flawed from the very beginning—a doomed policy built upon the wishful thinking that Russia would be a willing and honest partner. Following Russia's illegal invasion and occupation of Ukraine, subsequent annexation of Crimea, and current efforts to destabilize the remainder of Ukraine, it's clear that the U.S. needs a new strategy.
In 2009, when hailing the new Russian reset former Secretary of State Hillary Clinton stated:
Our two nations share a common interest in working constructively in areas of mutual concern, from arms control and nonproliferation to counter-piracy and counternarcotics, to Afghanistan, Iran, North Korea. We discussed a number of specific issues that we believe it is important for us to work together to make progress.
As The Heritage Foundation predicted, Clinton's optimism was unfounded. New START, hailed by President Obama as a success of the reset policy, has been a disaster. The treaty has weakened the position of the United States in relation to Russia, a country that has repeatedly violated arms control treaties including the Intermediate-Range Nuclear Forces (INF) Treaty.
Russian violations of the INF Treaty, as well as Moscow's enthusiasm for New START, follow a simple logic: do what is in Russia's best interest. The notion that Russia would somehow behave in a manner contrary to its interests demonstrates the administration's fundamental misunderstanding of Moscow's motives—an ignorance that, as predicted by Heritage in 2010, guaranteed the reset would fail:
The Obama Administration should recognize that the U.S.–Russia reset is happening only in the areas where Russia sees clear national interests (like Afghanistan) or where the U.S. is offering big paybacks, such as in the post-Soviet republics. The U.S. should review its policies concerning Russia and the post-Soviet republics based on a realistic assessment of Russia's intention and actions while giving top priority to American national interests.
The administration's reset policy involved a host of misguided decisions including withdrawing combat brigade teams from Europe; sending a lackluster contribution to NATO training exercises; and enacting deep domestic defense cuts. These decisions have weakened America's position in the world and, not coincidentally, contributed to insecurity in Eastern Europe.
As McFaul now publicly admits, the reset is dead; let us hope Russia's aggression against Ukraine has led President Obama and his administration to the same conclusion. The U.S. needs a new strategy for dealing with Russia and time is not on our side.