A suicide bomber made headlines in Iraq earlier this year, when he blew himself up accidentally during a training demonstration.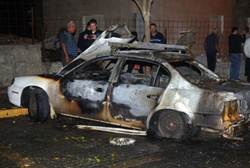 But an Irish terrorist set the record for stupidity-induced near-death earlier this week, when his bomb detonated early – after he forgot to "spring forward" to daylight savings time.
The bumbling Dublin bomber made headlines Wednesday, after he was reportedly seen running from a blast scene with blood dripping down his face. The bomb, which had detonated under a Volvo SUV moments earlier, had apparently gone off an hour earlier than intended.
"This certainly was a high-grade explosive used in this bomb. It wasn't garbage stuff. It would appear the bomber got his timings wrong," a police source told the Mirror.
"It could be a case where he didn't put his watch forward on Sunday and the timer went off too soon. If anyone had been in the car or walking near it at the time then they would have been killed."
Police are currently investigating the incident, which they say is linked to criminal activity – not terrorism, according to the Telegraph.
Source material can be found at this site.