PARIS — NATO's top military commander in Europe, drafting countermoves to the Russian military threat against Ukraine, said Wednesday they could include deployment of American troops to alliance member states in Eastern Europe now feeling at risk.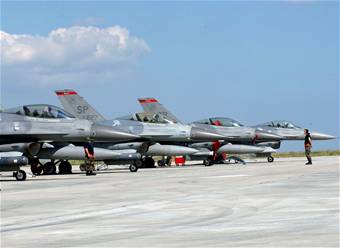 U.S. Air Force Gen. Philip Breedlove told The Associated Press he wouldn't "write off involvement by any nation, to include the United States."
?Another US military ship is set to be deployed in the Black Sea amid the Ukrainian crisis. The US Navy destroyer Donald Cook will join the USS Truxtun, whose stay in waters bordering Russia was extended to 'conduct drills' with Romania and Bulgaria.
The U.S. is also going to station more F-16 fighter jets to Romania, amid rising tensions after the coup in Ukraine subsequent annexation of Crimea into Russia.
Furthermore, the Pentagon is sending 175 new troops to Mihail Kogalniceanu military base in Romania, near the Black Sea port of Constanta, to boost the local presence of some 265 Marines already stationed there as part of a Black Sea Rotational Force.
Asked again if American soldiers might be sent to NATO's front-line states closest to Russia, the four-star U.S. general Philip Breedlove told The Associated Press, "I would not write off contributions from any nation."