LOS ANGELES– The overflow from China's economic high tide is transforming the housing markets of suburban Los Angeles.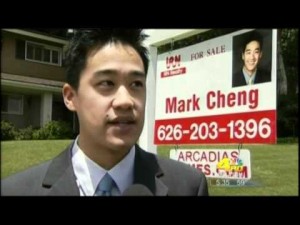 Affluent Chinese home buyers are driving prices past boom-era peaks, spawning a subset of property brokers and mortgage lenders that cater to their distinct needs — and even dictate design details in new subdivisions.
The strongest magnet is the San Gabriel Valley, where Monterey Park became known as the "first suburban Chinatown" in the 1970s. Selling real estate there now requires familiarity with feng shui, the ancient Chinese principles of harmonious design.
"People are getting money out of mainland China and sticking it here," said Mel Wong, president of the West San Gabriel Valley Assn. of Realtors.
The trend has spilled over into other areas, including San Bernardino and Orange counties and even Las Vegas, with more acculturated Chinese Americans seeking homes big enough to host lengthy visits from overseas relatives.
Chinese buyers bought 12% of all U.S. homes purchased by foreign citizens last year, up from 5% in 2007, according to the National Assn. of Realtors. More than half their home purchases were in California. And more than two-thirds of them paid cash, the trade group said.
The trend appears unlikely to unwind soon. More than 60% of China's wealthy have left or plan to leave the country, at least part time, and their No. 1 destination is the United States, according to the Hurun Report, a Shanghai publishing firm focused on recently minted millionaires and billionaires.
Despite dizzying ups and downs in U.S. home prices, the market can seem more stable than in China, where fears of a property bubble have added to the economic and political worries of the burgeoning middle and upper classes.
Motivations vary by location. Luxury estates in San Marino are bargains by Chinese standards; inexpensive Inland Empire homes are purchased as investments; top-shelf schools draw throngs to Irvine.
Eva Chen and her husband travel between their homes in Shanghai and Arcadia, where they purchased a property near Santa Anita Park in October. They scooped up the second home as an escape from pollution and a shot at better schools for their two infants.
Compared with housing prices in China, the $1.27-million Arcadia property didn't seem expensive.
"The Arcadia house is cheaper," Chen said.
But it's getting more expensive quickly. Heavy demand pushed the median home sales price past $1.32 million last quarter in Arcadia's 91007 ZIP Code — 30.5% above its peak in 2007, during the housing bubble, according to researcher DataQuick.
Next door in the 91006 ZIP Code, prices are up 23.7%. Other areas with prices exceeding their peaks include Walnut, Temple City, San Marino and parts of San Gabriel and East San Gabriel, all hubs for Chinese investment.
The Chinese buying spree sometimes borders on recklessness, said Dominic Ng, chairman of Pasadena's East West Bank, the largest Chinese-American bank. East West specializes in home loans for Chinese buyers with no U.S. credit histories, but often enormous down payments.
Unwary buyers accustomed to urban China's $1-million-plus luxury flats take "housing tours" and snap up homes east of Riverside or in Arizona without considering the cost of property taxes (China has none) or maintenance of homes with pools and yards.
"They look at the dinky little apartment in Shanghai or Beijing — you know, like one-fifth the size — and they say this is affordable," said Ng, who fears prices will appreciate less than the buyers expect. "They are buying for speculative purposes."
Others want the prestige of a San Marino or Pasadena mansion, even if paying for it means working in China and rarely visiting. One of Ng's neighbors bought a Pasadena estate, then lived there for just two days out of the two years that followed.
"He was not renting it out," Ng said. "People have so much money, they just say, 'What the heck. It's a nice neighborhood. I might as well just buy one.'"
It's a story echoed by Patti Hahn of Arcadia, gesturing to the house next door, which sold for $2.45 million last year, up from $1.55 million in 2006, the last time it changed hands.