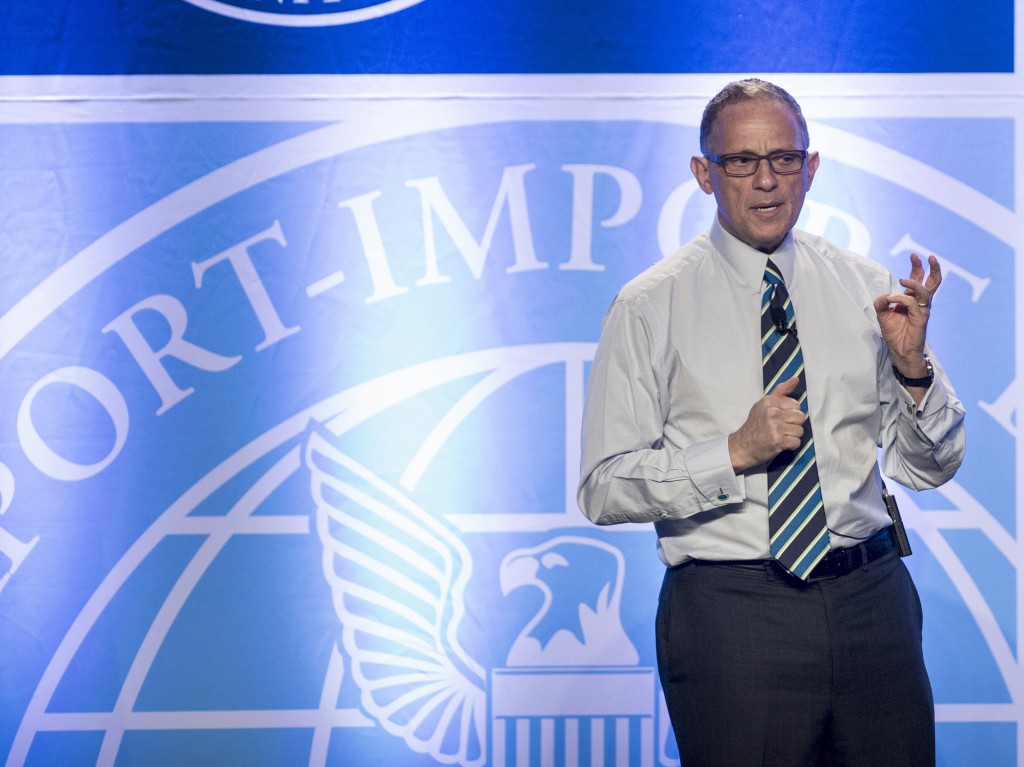 With a deadline looming on the future of the taxpayer-funded U.S. Export-Import Bank,  congressional Republicans remain split on whether to reauthorize the bank's charter.
The 80-year-old Ex-Im Bank, which provides foreign companies with loans to encourage them to buy from American companies, has come under fire for promoting corporate welfare and cronyism by subsidizing businesses that otherwise could be funded privately.
The Heritage Foundation's Diane Katz notes:
In [fiscal year] 2013, the bank authorized financing totaling $27.3 billion—a 28 percent increase from 2009—including $636 million for China and $630 million for Russia."
The overwhelming majority of loans have gone to aerospace giant Boeing, although small businesses such as Miss Jenny's Pickles also seek the taxpayer-backed loans.
Should a corporation default on its loan, warns Katz, Heritage's research fellow in regulatory policy, taxpayers would face considerable risk—especially since the bank has "insufficient policies to prevent waste, fraud, and abuse." Instead, she suggests, "lawmakers should focus on reducing tax and regulatory barriers to exports."
Democrats heavily support the Ex-Im Bank as a way to help American companies sell their products overseas. However, conservative Republicans break with leadership on the bank, which many consider a ripe example of corporate welfare.
The bank's charter is set to expire at the end of September, by which time the Senate plans to act on reauthorization legislation. Currently, no such bill exists.
The fate of the taxpayer-financed bank appears to rest in the hands of the House Committee on Financial Services, led by Rep. Jeb Hensarling (R-Texas). Hensarling is pressing colleagues to eliminate the bank but reportedly told members of the Republican Study Committee last week that he would consider reauthorization if certain reforms were guaranteed.
Calling the Ex-Im Bank "the face of cronyism," Hensarling told The Foundry in an on-camera interview that he recommends an alternative to "take down trade barriers," establish a "regulatory freeze on the federal government," and work on "fundamentally reforming our tax code."
"Why is it the role of government in a free society to pick winners and losers?" he said.
Other Republicans, however, are pushing back. Sen. Mike Crapo (R-Idaho) said in January that the Ex-Im Bank "level[s] the playing field for U.S. exporters by countering the public financing made available by foreign governments."
House Majority Leader Eric Cantor (R-Va.), who in 2012 worked in favor of reauthorization, has told members that he doesn't intend to get involved this time, The Hill's Russell Berman reported.
While Congress takes sides on whether the bank benefits or threatens the U.S. economy, the political ties of the institution have been called into question—most notably its relationship with Russia. Now facing international condemnation for invading Ukraine and grabbing the Crimea region, Russia received "more than $580 million in export funding during the last fiscal year,"  Dan Holler, communications director for Heritage Action for America, wrote last month.
Sen. Mike Lee (R-Utah) and Rep. Justin Amash (R-Mich.) introduced a bill last June to repeal authorization of the bank and "create a defined process for [its] phasedown," arguing that the bank "puts taxpayers at unnecessary risk."
Katz agrees, arguing in her report that the bank could disadvantage U.S. workers "by providing overseas companies with billions of dollars in financing at favorable rates." She added:
Proponents claim that such taxpayer bankrolling creates jobs and fills 'gaps' in private financing. In fact, the bank is a conduit for corporate welfare beset by unreliable risk management, inefficiency, and cronyism."
This story was produced by The Foundry's news team. Nothing here should be construed as necessarily reflecting the views of The Heritage Foundation.