The Muslim American Society, which federal prosecutors confirm was "founded as the overt arm of the Muslim Brotherhood in America," is boasting on its new website of how it's been embraced by the U.S. government and major interfaith groups. This is shocking, especially since the reaction of MAS to Bin Laden's death was to defend his goal of creating an Islamic state in Afghanistan.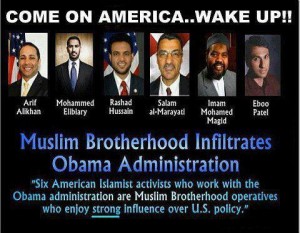 The renovated MAS website emphasizes its work with law enforcement, the federal government, members of Congress, charities and interfaith organizations. Unlike its previous website, it does not try to address questions about its links to the Muslim Brotherhood and beliefs about the Caliphate and sharia in America.
There is little dispute that MAS is a Muslim Brotherhood entity. AChicago Tribune investigation in 2004 confirmed it, as did senior U.S. Muslim Brotherhood operative Abdurrahman Alamoudi after he was convicted on terrorism-related charges. In 2012, he testified, "Everyone knows that MAS is the Muslim Brotherhood."
In 2008, federal prosecutors said in a court filing that "MAS was founded as the overt arm of the Muslim Brotherhood in America." The prosecutors also accused MAS and a related organization, theCouncil on American-Islamic Relations (CAIR), of being deceptive. They said the groups "omit reference to a shared background that limits their membership to those of a particular political bent, and undercuts their credibility."
Yet, somehow the MAS is treated well by the U.S. government. Its website claims it has even received taxpayer money by winning a federal grant through the President's Faith Based Initiative Program.
In January 2010, MAS joined a group of Muslim organizations (including the Islamic Society of North America, another Brotherhood entity) in meeting with Department of Homeland Security officials, including then-Secretary Janet Napolitano.
The MAS website the meetings' purpose was to "discuss joint efforts against domestic violent extremists, and to work with the government to address community concerns about DHS policies, such as racial, ethnic, and religious profiling at airports and borders."
It also claims it trained over 1,500 federal, state and local law enforcement officers on dealing with the Muslim-American community. The Justice Department honored the MAS Outreach Director with an award. MAS says it has trained over 7,000 civic and community activists and hosted a Muslim Community Action Forum with the Governor of Massachusetts.
MAS is very involved in political activism. It is part of a new political coalition of Islamist groups including the Council on American-Islamic Relations, Islamic Circle of North America, Muslim Alliance in North America and American Muslims for Palestine. The objective is to consolidate the Muslim-American vote behind their subtlety-radical agendas.
There is national media recognition of MAS' Center for Civic Empowerment and its Voting is Power Program. It has also distributed the "first American Muslim 'Four Year Legislative Agenda' " to congressional offices.
Like the other American Islamist groups, MAS is building credibility by allying with interfaith groups. The website says the MAS leadership is on the boards of the following groups:
Steering Committee of Religious Non-Governmental Organizations at the United Nations
Harvard University's Islam in the West Program, Muslims in Boston Survey,
The Interfaith Alliance
Inter-religious Council for Public Life
Center for Jewish Muslim Relations
Religions for Peace
Interfaith Workers Justice
Washington D.C. Mayor's Office on Metropolitan Ministries
The Temple of Understanding (hosted by the United Nations)
Part of the reason for MAS's success is because it is skilled with semantics. The Tribune investigators came across a MAS memo that told members to condemn the vague term of "terrorism," with the unstated understanding that the term does not include acts of jihad. This is in accordance with the doctrines of taqiyya and tawriya, which permit outright lying in some circumstances and, in other cases, the use of deceptive answers that are designed to give a false impression without crossing the threshold into being a clear lie.
MAS officials have thought carefully about how to present the group as independent. Former MAS president Esam Omeish said, "The Brotherhood does not exist as far as we know in the United States," but, "We still view them as a good ally." The Tribune reported on an undated MAS memo that told members to answer questions about its Brotherhood affiliate by saying, "It [MAS] is a self-explanatory name that does not need further explanation."
After Osama Bin Laden was killed in 2011, MAS issued a press release authored by Khalilah Sabra that endorsed Bin Laden's goal of creating an Islamic state. It described him as:
"…a visionary who believed in the possibility of an Islamic state in Afghanistan, and the possibility that this thing might someday be. There was nothing wrong with that dream, even if it differs from one that all Americans have here for themselves."
It again endorsed "that dream of a pure and merciful Islamic state in a Muslim land," but said Bin Laden "created a nightmare on September 11, 2001" and "became someone we did not know and could not understand."
MAS subsequently retracted the press release, saying it "does not represent in any way the position of the Muslim American Society and its leadership" and an internal review had begun. It then condemned terrorism, hate and injustice — but it did not condemn Bin Laden's vision of an Islamic state. It was another example of tawriya.
There's something clearly wrong when the government embraces the MAS—the same government whose prosecutors said it was "founded as the overt arm of the Muslim Brotherhood in America." Either there is a serious information-sharing problem or the officials in charge simply don't care about the history of MAS. Neither answer gives us reason to have confidence in the government on this issue.
Ryan Mauro is the ClarionProject.org's National Security Analyst, a fellow with the Clarion Project and is frequently interviewed on top-tier TV stations as an expert on counterterrorism and Islamic extremism.
The Institute on Religion and Democracy contributed to this article.