Americans are completely detached from reality living "behind the CNN curtain," said Max Keiser, the host of the 'Keiser Report.' While 95 percent of the world's population is happily moving on, building new post-America future, Americans and their leaders appear comically out of the loop.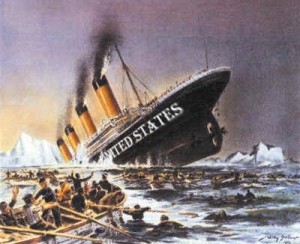 Referring to a 2003 German tragicomedy film 'Good Bye, Lenin!' Keiser compares Americans to the people living in East Germany before the Berlin Wall came down, who were gradually losing touch with the outside world.
"The reason being: they watch CNN and actually believe CNN's narrative about Russian advances into Ukraine, the sanctity of Wall St., and the wholesomeness of American culture as a 'shining city on a hill' as Ronald Reagan called it," stresses Max Keiser in his RT Op-Ed "Living behind the CNN curtain."
According to the expert, the words of the US leaders appear to come from a distant past, a previous era of US moral and political hegemony, when the American middle class had stable financial positions, when America's press freedom was not as low as the 46th place of the Reporters Without Borders league table, and when the population of US prisons had not yet reached more than 2 million people.
In the past 15 years the income gap between the average American family and "the new robber barons of Wall Street" has grown enormously. Meanwhile, BRIC nations of the East and 'Global South' were rising, due to the fact they possessed the resources and capital to determine their own political and economic destiny.
"Since China joined the WTO, we've witnessed a de-globalization in terms of a breakaway from the dominant ideology of the 20th century that drove American soft power and global hegemony. Instead of a unipolar world, we've seen a fracturing and a move away from the 'freedom and democracy' meme emanating from Washington DC .," writes Max Keiser.
The expert notes that he would like to see the US as a world leader that doesn't use military power, drones and political repressions as the key instruments of its foreign and domestic policy. It would be nice, he writes, to not feel embarrassed every time a John McCain, John Kerry or Hillary Clinton speaks in public.
Max Keiser asks a rhetorical question: "Will the US ever, 'tear down that CNN wall' as Reagan may have put it, and rejoin the world community?"