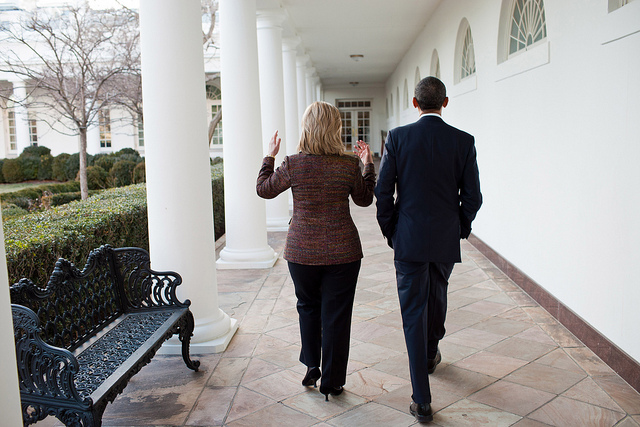 Americans will get the answers they deserve to questions surrounding the Benghazi terrorist attack through creation of a special committee empowered to dig deep into the subject, House Speaker John Boehner announced today.
In a formal statement, Boehner said:
The administration's withholding of documents – emails showing greater White House involvement in misleading the American people – is a flagrant violation of trust and undermines the basic principles of oversight upon which our system of government is built. And it forces us to ask the question, what else about Benghazi is the Obama administration still hiding from the American people?
Also today, an existing House panel subpoenaed Secretary of State John Kerry to testify again May 21 on matters related to Benghazi.
Both moves followed the surprise release of internal White House emails showing that President Obama's communications team prepared then-United Nations Ambassador Susan Rice to emphasize the effect of a provocative YouTube video—rather than failures of policy or intelligence—in  Rice's appearances on five Sunday morning talk shows five days after the deadly attack.
The emails, in particular one from White House national security communications aide Ben Rhodes, were among documents released to Judicial Watch as part of a lawsuit. The documents should have been provided under subpoena from House and Senate committees looking into aspects of the attack, Boehner said today.
"The fact that these documents were withheld from Congress for more than 19 months is alarming," Rep. Darrell Issa (R-Calif.), chairman of the House Oversight and Government Reform Committee, wrote in a letter to Kerry accompanying the subpoena. "The Department [of State] is not entitled to delay responsive materials because it is embarrassing or implicates the roles and actions of senior officials."
Issa also issued a statement supporting Boehner's decision to create a select committee. The ranking Democrat on Issa's committee, however, promptly assailed the moves.
"These actions are not a responsible approach to congressional oversight, they continue a trend of generating unnecessary conflict for the sake of publicity, and they are shockingly disrespectful to the secretary of state," Rep. Elijah Cummings (R-Md.) said.
Read More:  Attkisson: Why Can't We See Photos at White House During Benghazi Attack?
Boehner's decision comes 19 months after the Sept. 11, 2012, attack on the U.S. consulate in Benghazi, Libya, left Ambassador Christopher Stevens and three other Americans dead just weeks before a tightly contested presidential election.
The Ohio Republican's announcement gratified Rep. Frank Wolf (R-Va.), who sought a select committee for nearly as long and attracted more than 185 fellow lawmakers to sign on to a related resolution.
"I believe the apparent cover-up of what happened in Benghazi is ultimately about an abuse of power by the White House," Wolf said.  "We need to know whether the administration used the intelligence community and law enforcement as cover for political purposes in the weeks leading up to President Obama's re-election."  He added: 
When legitimate questions arise about abuse of power, the Congress has an obligation to do everything possible to learn the truth and there is a long precedent for using select committees for this purpose.
A select committee on Benghazi would be the most effective way to move forward short of a special prosecutor, Heritage Foundation scholar Helle Dale told The Foundry three months ago. It is neither a conservative nor liberal approach, but "a solution that the system offers," Dale said.
In a commentary today, Dale writes:
The establishment of a select committee could be a giant step toward unraveling the real story behind the Benghazi attack, which cost four brave Americans their lives, and the cover-up that has denied Americans the truth.
Wolf said he expected the select committee to question key figures such as former Secretary of State Hillary Clinton, former Secretary of Defense Leon Panetta, former CIA Director David Petraeus, and Attorney General Eric Holder, as well as "their senior staff who were present the night of the attack and involved in the response in the days after."
House Minority Leader Nancy Pelosi (D-Calif.), who had no immediate comment on Boehner's intent to schedule a vote to empanel a select committee, yesterday called the Rhodes email a distraction.
"Diversion, subterfuge, Benghazi, Benghazi, Benghazi," Pelosi said, CBS News reported. "Why aren't we talking about something else?"
Read More: Two Brothers at Center of Benghazi Controversy: One Runs CBS News, the Other Is Obama's Adviser
A former National Security Council spokesman, Tommy Vietor, last night said President Obama was not present in the White House Situation Room as his national security team monitored the hours-long, two-wave attack in Benghazi.
In a sometimes contentious back and forth with Fox News anchor Bret Baier on "Special Report," Vietor said: "I don't have a tracking device on [Obama] in the residence. … Let's just be clear. You don't have to be in the Situation Room to monitor an intelligence situation."
The exchange highlighted that Obama's whereabouts as events unfolded in Benghazi remain largely unknown.
This afternoon, citing Vietor's remarks, three Republican senators—Kelly Ayotte (N.H.), Lindsey Graham (S.C.), and John McCain (Ariz.)—wrote Obama to ask about that:
Over a year and a half has passed since the terrorist attacks, and the American people still do not have an accounting of your activities during the attack. Mr. President, can you now confirm that Mr. Vietor's account of your absence in the White House Situation Room is accurate?
This story was produced by The Foundry's news team. Nothing here should be construed as necessarily reflecting the views of The Heritage Foundation.