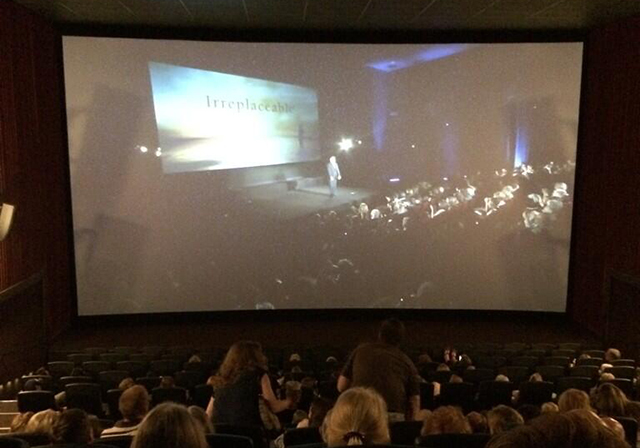 Crowds packed out 723 theaters coast to coast as the movie "Irreplaceable" premiered last night to a total audience topping 97,000, Focus on the Family said.
Many showings in the "one night only" event sold out – in Atlanta, Dallas, Miami, Seattle, St. Louis, and Fresno and Santa Monica, Calif.,  among other cities. As a result, dozens of theaters will offer an encore presentation Thursday, May 15, the Christian ministry said in an exclusive statement to The Foundry.
"We rejoice in these sold-out theaters not because it represents a marketing or PR success for us – but because every seat sold was filled by a real person who God loves," said Jim Daly, president of Focus on the Family.
"Irreplaceable," the first theatrical film production from Focus, follows New Zealand father Tim Sisarich to a half-dozen nations on a search for answers to why family, marriage, and children matter for the future of society.
Sisarich meets up with local leaders throughout his journey who share their personal insights, among them author Eric Metaxas, law professor Helen Alvaré, former NFL chaplain Carey Casey, and cultural commentator Michael Medved. (One of those featured, Jonathan Last, discussed his book "What to Expect When No One's Expecting" last year at The Heritage Foundation.)
Sarah Torre, a policy analyst in Heritage's DeVos Center for Religion and Civil Society, praises the film for making important research findings accessible to moviegoers:
Through the power of well-told stories, 'Irreplaceable' reveals on-screen compelling trends affecting today's families – changes in family formation behavior we have studied for many years at Heritage, based on reams of research data. Such trends as the social costs of abandoning marriage and how public policies contribute to devaluing human life are messages our culture needs to hear."
Released on the heels of the movies "Heaven Is for Real" and "God's Not Dead," both of which far outperformed box office expectations, "Irreplaceable" caught this year's wave of faith-based films targeting families.
Daly, who called the premiere "a success in every way possible,"  said his team is humbled by the response:
 One young woman described 'Irreplaceable' as 'deep, moving and life-changing.' Another said it was 'soul-stirring.' It's an honor for us to help them better understand God's incredible design for the family."
Early indications are that Focus will release "Irreplaceable'" on DVD and for on-demand viewing this summer.
This story was produced by The Foundry's news team. Nothing here should be construed as necessarily reflecting the views of The Heritage Foundation.