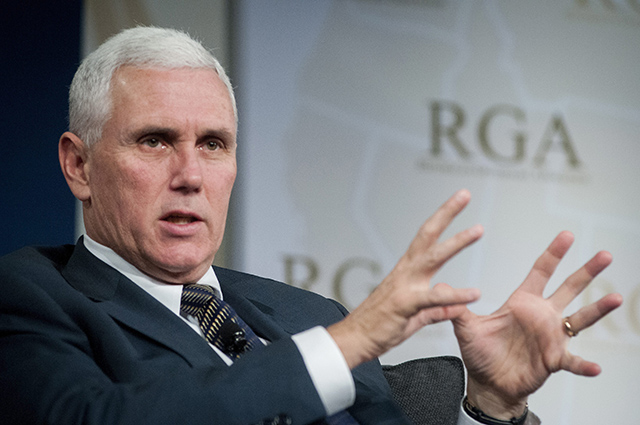 Fresh off his proposal last week to expand Indiana's alternative Medicaid program, Gov. Mike Pence today defended his decision to ask for federal approval to make more Hoosiers eligible.
Speaking at the American Enterprise Institute, the Republican governor promoted the Healthy Indiana Plan and his efforts to expand the program, started in 2008 to provide insurance to poorer workers who don't qualify for traditional Medicaid. If approved, the Indiana program could serve 350,000 residents — up from 40,000.
Medicaid, a federal-state health program for certain low-income Americans, significantly increased enrollment eligibility for states that agreed to an expansion under the Affordable Care Act, or Obamacare. Although he continued to reject the idea of expanding traditional Medicaid, Pence said, he promoted a larger Healthy Indiana Plan because "the program worked."
"Low-income working Hoosiers in our state take pride in managing their health" through health savings accounts that are part of the current program, Pence said.
Pence stressed in his speech that the expansion would not be funded through new state spending or taxes. But conservative critics pushed back, saying the proposal depends upon new federal funds under Obamacare that put Indiana in a dangerous position.
"The state's willingness to accept the enhanced federal funding incentive under Obamacare makes Indiana vulnerable to higher costs, uncertain funding, and less flexibility," said Nina Owcharenko, director of the Center for Health Policy Studies at The Heritage Foundation.
However, Grace-Marie Turner, president of the conservative Galen Institute, suggested that Indiana might be different. "Conservatives could consider the Healthy Indiana Plan to be our pilot project for transformation of Medicaid to give people the dignity of private coverage going forward," she wrote in Forbes.