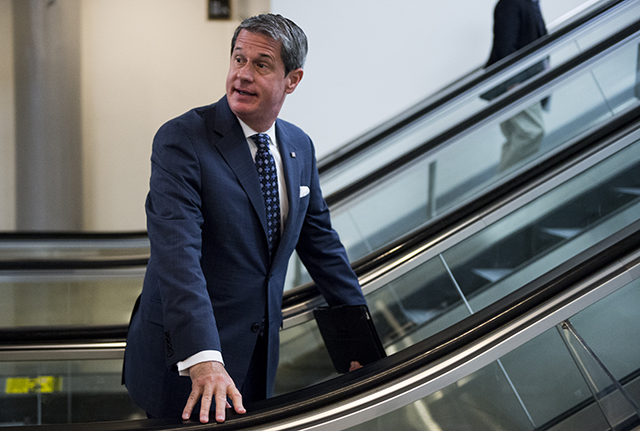 Sen. David Vitter, an ardent opponent of Obamacare, readily concedes that his proposal to end health care subsidies to members of Congress and their staffs isn't popular on Capitol Hill. But the Louisiana Republican won't give up anytime soon, he vows.
"I won't let my amendment fall to the wayside," Vitter writes in a commentary in Roll Call. "I plan to fight for this vote until we get one."
In September 2013, Vitter proposed ending White House exemptions and repealing an Office of Personnel Management regulation that allows the federal government to help pay for lawmakers' and aides' health coverage bought under insurance exchanges created by the Affordable Care Act.
That OPM rule, issued last August, came after an uproar in the House and Senate that health plans would be too expensive without federal contributions. Such contributions had been made to members and staffers when they were part of the Federal Employees Health Benefits Program.
Senate Majority Leader Harry Reid, D-Nev., recently said the Vitter amendment was designed to stop congressional staff from getting health care. Vitter, who added the Obamacare amendment to the Energy Efficiency Act that is headed for a Senate floor vote, hit back at Reid's characterization:
Really, Harry? That's a pretty wild and desperate spin, even for a politician. My legislation would simply ensure that we do what the Obamacare statute actually says—make all members of Congress and staff go to the Obamacare exchanges for their health care with no mention of a special, ultra-generous taxpayer-funded subsidy. It would also expand that same rule to President Barack Obama, his Cabinet, and top White House officials.
In a related move, Sen. Ron Johnson, R-Wis., filed a lawsuit against the head of OPM, saying the agency's decision to give premium assistance to members of Congress and their staffs violates the law. Johnson acknowledged at a Heritage Foundation event that the court action faces long odds but said he would continue to push the issue.
The Vitter commentary comes a few days after Louisiana Gov. Bobby Jindal, a Republican, wrote for FoxNews.com that the Affordable Care Act still could be repealed.
However, Dean Clancy, former vice president for public policy at the conservative advocacy group FreedomWorks, questioned whether the focus on Obamacare would be a boon to Republicans leading up to the mid-term elections.
"No matter how many policy devils inhabit the Unaffordable Care Act—and they are legion—this troubled law has always had one great strength: the public's belief that it is, at bottom, inspired by noble intentions," Clancy wrote in U.S. News and World Report. "And politically, that counts for a lot."