May 29, 2014 16:05
by Simon Plosker
Lauren Booth, journalist, Islamist and Dishonest Reporter of the Year for 2008 (and sister-in-law of former British PM Tony Blair) has a long and disturbing track record when it comes to Israel. Now, for some reason only known to herself, she decided to include HonestReporting in this Twitter exchange with Native Canadian and advocate for the rights of indigenous peoples (including Jews), Ryan Bellerose: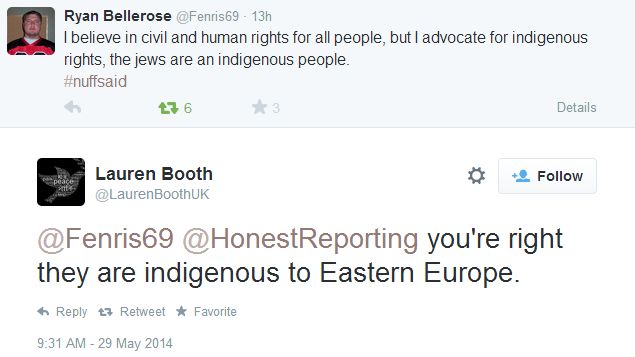 The claim that Jews are "indigenous to Eastern Europe" is similar to that most often promoted by anti-Semites who assert that the Jews are descendants of the ancient Khazar region of what is now Eastern Europe and Southern Russia. This is employed as a means to disprove the ancestral connection of Ashkenazi Jews to Israel.
Lauren Booth's tweet isn't surprising but it is nonetheless disgusting. We'd call for her to be fired by those media outlets that she appears on. But Iranian Press TV and the Islam Channel are probably not too concerned.
Helen Thomas was fired for telling Israelis to "go back to Poland." Booth will probably get a bonus…