A Ukip branch chairman has suggested that parts of London are being "ethnically cleansed" of white people.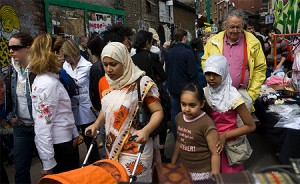 Jeremy Zeid, the chairman of the Eurosceptic party's branch in Harrow, suggested a Labour MP could be "complicit" in what he called "disappearing diversity" in Ilford, north-east London.
In a string of tweets, he wrote: "Having just been to Gerard Batten's [Ukip MEP] office in Ilford, the almost absence of white faces in Ilford is worrying.
"Mike Gapes is so busy being 'right on' he is either blind to or deliberately complicit in the ethnic cleansing of Ilford which I'm sure will be called 'racist'.
"A word so overused by the t***pot Left as to be completely devalued."
The comments sparked several responses on Twitter, with many people asking what he found so "worrying".
Mr Zeid replied: "Are you not worried when diversity disappears?"
Mr Gapes, the Labour MP for Ilford South,  tweeted about controversial Ukip campaign posters inferring that European migrants steal jobs, calling them "racist".
Speaking to The Independent, he said he was copied in to a conversation on Twitter between Mr Zeid and another man.
"When I saw these tweets I was just shocked," he added.
"My point is what is Farage going to do about it?"
Ilford, in the London Borough of Redbridge, is one of the most ethnically-diverse places in the UK, in a few decades diversity will be no more as whites will be non-existent..
A third of its citizens were born outside the UK, according to the 2011 census.