It has not been a pleasant week for Democrats who hope that a strengthening economy will help them overcome other big electoral weaknesses and limit their losses in the 2014 midterm elections.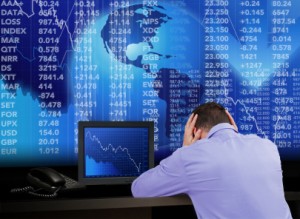 The biggest blow came Thursday with release of revised gross domestic product numbers showing the economy actually contracted 1 percent in the first quarter, the first decline since 2011.
Economists and the White House quickly (and correctly) downplayed the significance of the report given the impact of the brutal winter and the contribution from slowing inventory growth, which is likely to reverse in the second quarter.
"Overall the first quarter was subject to a number of notable influences, including historically severe winter weather, which temporarily lowered growth," top White House economist Jason Furman wrote in a blog post shortly after the data came out. "A range of more up-to-date data from March and April, including jobs, manufacturing, housing and other indicators, provide a more accurate and timely picture of where the economy is today and show that it continues to recover from the worst recession since the Great Depression."
Non-partisan economists mostly backed up this view, noting that on the same day as the GDP report, initial jobless claims fell back to 300,000, indicating more strong jobs gains likely in the coming months.
"More recent data signal a rebound in Q2," High Frequency Economics' Jim O'Sullivan wrote in a client note. "The Q1 weakness was clearly exaggerated, particularly by weather effects. There is certainly no sign of new weakening in the latest jobless claims data."
But not all the reaction was so sanguine. Goldman Sachs' Jan Hatzius noted that real gross domestic income fell 2.3 percent in the quarter, the worst performance since the recession.
And even if the inventory drag reverses, earlier more rosy estimates for 2014 growth may soon have to be revised down.
"It is not certain, though, that Q2 growth will make up all the lost ground, not least because the severe weather has already left its mark on the April data," Pantheon Macroeconomics' Ian Shepherdson wrote in a client note. "We assume second quarter growth will rebound to about 3 percent, but that will leave the average for the first half of the year at just 1 percent. As a result, the Fed's forecasts for growth this year will have to be revised down substantially."
Friday brought more troubling data, as nominal personal spending fell 0.1 percent in April, well below the consensus expectations of a 0.2 percent gain. Once again, economists blamed one-off factors including the weather (a big drop in utility spending) and the late Easter (lower retail sales).
They may be right. But at some point Democrats will have to start seeing consistently good data—rather than spend their time explaining away bad data—in order to enjoy a long-hoped-for political lift.
And a boost from the economy is especially vital to Democrats fighting against expected low turnout, an unpopular incumbent president, a challenging electoral map and the continued (though lessening) drag from Obamacare.
Interestingly, Republican candidates have been backing off their Obamacare attacks recently, arguing they would strike portions of the law but not repeal the whole thing. This is in line with polling data showing that repeal is even less popular than the law itself. And it represents a big relief to Democrats who feared the 2014 race would be a referendum on the health care law—and that they would lose that referendum by a very large margin.
But it also means that Republicans are likely to shift their attacks to the state of the economy, which polls consistently show voters view as bad and getting worse. If the GOP can make a compelling national argument that they have a set of policies (lower taxes, streamlined regulations, education reform, Obamacare tweaks etc.) that could turn up the dial on growth and lift stagnant wages, Democrats could wind up losing the Senate and a large number of House seats.
But that is a very big if.
Some Republicans want a new version of the "Contract with America," the policy document that helped Republicans to historic midterm wins in 1994. Others however don't view such a contract as a good idea. And it's unclear whether the GOP's tea party and more establishment wings could agree on what policies to include. It's also not clear if the GOP will come up with an Obamacare alternative to sell to voters this fall.
If the GOP does manage to unite around a clear message, Democrats could be in a big trouble. The only thing that would save them: a rebounding economy that makes Thursday's dismal GDP number look a distant memory.
—By Ben White. White is Politico's chief economic correspondent and a CNBC contributor. He also authors the daily tip sheet Politico Morning Money [politico.com/morningmoney]. Follow him on Twitter@morningmoneyben.