There are an awful lot of unanswered questions and controversies in this POW release of US soldier Sgt. Bowe Bergdahl. Firstly, it seems he actually deserted the army, he didn't just get accidentally captured. Secondly, it seems his father might be in sympathy with our Muslim enemies or be a Muslim himself,  is the beard a coincidence?  Last, Obama's action in negotiating with the terrorists for his release may have violated the law because he did it all secretly without telling Congress.
There is a story from a member of Bowe's own unit that details his weirdo behavior, wacky ideas, and ultimate desertion.According to one of the soldiers who served with Bergdahl, he didn't get captured after wandering off. He was in the process of deserting the Army when he got captured.
In this soldier's telling, Bergdahl was making all sorts of strange claims–he said he once beat up drug dealers back home and that he once joined the French Foreign Legion and he did neither–and kept telling his troop mates that he was going to become a mercenary so he could shoot people.
In one part of this soldier's story, Bergdahl sent all his belongings home just before he disappeared into Taliban country. Why would he do that unless he intended to leave?
Then the idiot ended up captured by the Taliban after he deserted to go become a "mercenary," whatever he thought that was?

In this telling of Bergdahl's actions, he seems unbalanced to begin with.
Then there is the strange Tweet that Bergdahl's father sent out then quickly tried to delete.
It appears that Bergdahl favorably re-tweeted the claim of a Taliban terrorists that America is guilty of being the child-killing terrorists.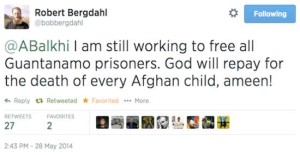 While Appearing with Obama in a brief Rose Garden event, Robert Bergdahl, the father of Army Sgt. Bowe Bergdahl, recited "Bismillah ir-Rahman ir-Rahm," according to the Daily Caller. In English, that means, "In the name of Allah, most Gracious, most Compassionate."
According to Britain's Daily Mail, Bowe Bergdahl was already on the side of the enemy in captivity by August 2010.
"A captured American soldier is training Taliban fighters bomb-making and ambush skills, according to one of his captors and Afghan intelligence officials. (Daily Mail, Aug. 22, 2010)
"Private Bowe Bergdahl disappeared in June 2009 while based in eastern Afghanistan and is thought to be the only U.S. serviceman in captivity.
"The 24-year-old has converted to Islam and now has the Muslim name Abdullah, one of his captors told The Sunday Times.
"A Taliban deputy district commander in Paktika, who called himself Haji Nadeem, told the newspaper that Bergdahl taught him how to dismantle a mobile phone and turn it into a remote control for a roadside bomb.
"Nadeem claimed he also received basic ambush training from the U.S. soldier released with the assistance of Obama along with 5 dangerous terrorist held in Guantanamo.
[youtube -Q_pmEbDbMM nolink]