By John Lillpop–  Imam Barack Hussein Obama is, if nothing else, determined to do things his way regardless of what the US Constitution or the United States Congress may require, or even what we the people want.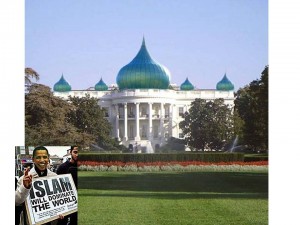 One of Obama's first decrees after taking over the Oval Office was to order that the GITMO detainee camp in Cuba be shut down and that the prisoners held there be brought to mainland America to face civilian trials.
Congressional opposition to that order was overwhelming from both sides of the political aisle. It was clear that Obama's plan had not been thought through with any intelligence or wisdom.
Thus, Obama's goofy GITMO scheme has been effectively blocked by Congress…until now.
As reported, The One finally acted in a manner that opens the gates to GITMO, despite the will of Congress, in order to trade five murderous Taliban captives for an American held by the Taliban.
The story:
The Obama administration announced today that Sgt. Bowe Bergdahl, who has been held by the Taliban for several years, has been freed from his captors. Reading the stories of his newfound freedom it is impossible not to feel joy for Bergdahl and his family. NBC News reports that Bergdahl held up a sign once he was on board an American helicopter that read, "SF?" The operators quickly confirmed that they were in fact U.S. Special Forces: "Yes, we've been looking for you for a long time."

"On behalf of the American people, I was honored to call his parents to express our joy that they can expect his safe return, mindful of their courage and sacrifice throughout this ordeal," President Obama said in a statement. The president rightly noted: "Sergeant Bergdahl's recovery is a reminder of America's unwavering commitment to leave no man or woman in uniform behind on the battlefield."

Unfortunately, America is not the only party in this war that is committed to leaving no man behind. So are the Taliban and other al Qaeda-linked groups. But the president did not say who America exchanged for Bergdahl: five of the most dangerous Taliban commanders in U.S. custody."
The big, unanswered questions: How many America lives will be lost due to Obama's naïve dabbling in terrorist diplomacy?