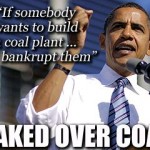 This morning, the Obama administration will announce new EPA rules that will keep the president's infamous promise that "electricity rates would necessarily skyrocket." The promise was so clear, so brazen, that it's worth taking another look. 
The president's plan would indeed cause a surge in electricity bills – costs stand to go up $17 billion every year.  But it would also shut down plants and potentially put an average of 224,000 more people out of work every year.  It's a sucker punch for families everywhere paying more for just about everything in the president's fragile economy. 
That's why the House has already passed legislation that would prevent these rules from taking effect without congressional approval.  Senate Democrats concerned about "pocketbook issues" should take it up immediately. 
[youtube CNSZ62xiD4M nolink]