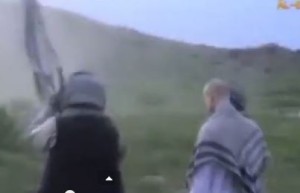 On Sunday Defense Secretary Chuck Hagel told reporters the action to release Bowe Bergdahl was urgent because Bergdahl's "health was deteriorating."
But Bergdahl doesn't appear sick or weak in the Taliban video of his handover.
He was able to walk unaided to his rescue helicopter.
[youtube 3kDFGbk1ExM#t=51 nolink]
Susan Rice has lied for Obama again.
Defending the insane deal that freed Sgt Bowe Bergdahl from the Taliban, the national security adviser declared that Bergdahl had "served the United States with honour and distinction". Yet, as far back as 2010, the Pentagon found that Sgt Bergdahl had actually abandoned his post.