A new U.S. Chamber of Commerce report analyses how new EPA regulations will "threaten to suppress average annual U.S. Gross Domestic Product (GDP) by $51 billion [annually] and lead to an average of 224,000 fewer U.S. jobs every year through 2030."
The Chamber of Commerce concludes that the devastating effects of the regulations raise serious concerns, especially since they would cost a half a trillion in compliance expense:
This Energy Institute report provides clear evidence that, even with implementation features designed to keep compliance costs low, regulating CO2 emissions at the thousands of existing fossil fuel-fired electricity generating plants in the United States under the CAA leads to nearly a half trillion dollars in total compliance expense, peak GDP losses over $100 billion, hundreds of thousands of lost jobs, higher electricity costs for consumers and businesses, and more than $200 on average every year in lower disposable income for families already struggling with a weak economy.

Given the significant and sustained harm to the U.S economy coupled with the limited overall impact on worldwide greenhouse gas emissions that would result from implementing these regulations, serious questions must be raised and answered about the timing and scope of what EPA is pursuing
The regulations would also cripple the fossil fuel industry – which Americans rely on for nearly two-thirds of their electricity – and reduce coal's contribution to nearly a third of its current level.
The regulations will decrease fossil fuel use across the nation even though "fossil fuel-fired power stations comprise almost 75% of the generating capacity and nearly 66% of the electricity generated in the United States."  Meanwhile, when the regulations are put into place, "coal's share of total electricity generation decreases from 40% in 2013 to 14% in 2030, while natural gas's share increases from 27% to 46%."
The Chamber of Commerce report breaks down the regulation's impact on each of the nine census regions and details the damage to each area's GDP and job market.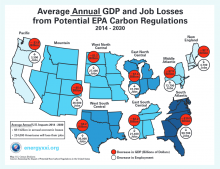 The South Atlantic, which is comprised of Delaware, the District of Colombia, Florida, Georgia, Maryland, North and South Carolina, Virginia, and West Virginia, would be heaviest-it – crushed with a loss of nearly 60,000 jobs and $10.5 billion from the GDP annually.
Both East North Central and West South Central lose more than 30,000 jobs and $7 billion each year.
Not surprisingly, New England and the Pacific lose only approximately 8,000 jobs each year between the two regions that have historically been against the use of fossil fuels. However, they do lose a combined $6.7 billion of GDP annually.
For all of these job and GDP losses, how much is gained environmentally?  When natural gas begins to take over as the leading energy producer, "annual power sector CO2 emissions decline to about 1,434 million metric tons CO2, resulting in an emissions reduction of about 970 million metric tons, or about 40% below the 2005 level by 2030."  However, those figures are only the baseline standards without adding on any additional federal regulations.  When new regulations are added, "these dramatic changes fall short of the 42% emissions reduction goal."
The effort put forth by the Obama Administration and the United States may be in vain unfortunately.  "The International Energy Agency estimates that over the 2011-30 forecast period, the rest of the world will increase its power sector CO2 emissions by nearly 4,700 million metric tons (MMT), or 44%."
"Those non-U.S. global emissions increases are more than six times larger than the U.S. reductions," the report says.
Sen. David Vitter (R-LA) says that "this rule is expected to have a less than 2% impact on carbon emissions reductions because it will not impact the world's largest carbon emitters like China, India, and Russia. However, the rule will impose less reliable electricity with much higher prices on all Americans."
"American families and businesses will have to shoulder all the costs and burden from this rule without contributing to any significant reduction in global carbon emissions," Vitter warns.
In all, the regulations will force U.S. consumers to pay $289 billion more for electricity through 2030 and lower total disposable income for U.S. households by $586 billion through 2030, the Chamber says.
"Americans deserve to have an accurate picture of the costs and benefits associated with the administration's plans to reduce carbon dioxide emissions through unprecedented and aggressive EPA regulations," said Karen Harbert, president and CEO of the Chamber's Energy Institute:
"Our analysis shows that Americans will pay significantly more for electricity, see slower economic growth and fewer jobs, and have less disposable income, while a slight reduction in carbon emissions will be overwhelmed by global increases."