The Senate Intelligence Committee chairwoman said she's not convinced there was a "credible threat" against the life of freed Army Sergeant Bowe Bergdahl that motivated the White House to keep its plans secret.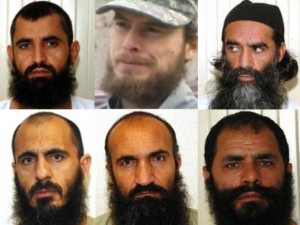 "I don't think there was a credible threat," U.S. Senator Dianne Feinstein said in an interview yesterday for Bloomberg Television's "Political Capital withAl Hunt" airing this weekend. "I have no information that there was."
Senators were told at a June 4 classified briefing that PresidentBarack Obama's administration had received indications that Bergdahl's life could be jeopardized if the detainee exchange proceedings were disclosed or derailed, according to a government official who sought anonymity.
Feinstein, a California Democrat, is among lawmakers who criticized the administration's decision not to adhere to a law requiring 30 days' notice to Congress before releasing detainees from the Guantanamo Bay facility in Cuba. Prisoners from wars following the Sept. 11 terrorist attacks are held there.
Bergdahl, the last remaining U.S. prisoner of war in Afghanistan, was handed to U.S. forces in easternAfghanistan on May 31 in exchange for five Guantanamo detainees.
Feinstein said it was difficult for her to tell, based on the information she's been provided, whether Bergdahl's health had deteriorated to the point where his life was in serious danger without an immediate release.
'No Question'
"There's no question he was debilitated," she said. "There was no question he was under stress — blinking rapidly, probably held in dark surroundings for a long period of time."
"But he'll receive very good care and recover, and I think that's what's important," she added.
Officials at the June 4 briefing showed senators a video of Bergdahl in Taliban custody, provided by that group, said several senators who attended.
Administration officials on June 2 called Feinstein and Georgia Senator Saxby Chambliss, the Intelligence panel's top Republican, to apologize for not alerting them before the prisoner trade, according to the two lawmakers.
Feinstein said the evidence was "mixed" as to whether Bergdahl was, as some military members have claimed, a deserter.
Sandy Winnefeld, vice chairman of the Joint Chiefs of Staff, made "crystal clear" during this week's classified briefing that Bergdahl "was going to have justice, that the army was going to do the appropriate investigation, and the facts eventually will come out," she said.
Few Choices
Feinstein said there were few other choices for securing Bergdahl's return. In previous conversations with administration officials, it was never an active option to seek to rescue Bergdahl rather than persuade his captors to hand him over.
"That was never discussed," she said. "It was never discussed back in 2011, 2012."
The prisoner exchange illustrates the challenges inherent in efforts to close Guantanamo, said Feinstein, who, like Obama, wants to see the facility shuttered.
"They've been held for approximately 12 years, which is a long time. And this is the problem with Guantanamo," Feinstein said. "It's the kind of circumstance that's going to take a human being and either harden him or crush him, in my view."
Prosecuting Detainees
Feinstein said she didn't know whether there was the necessary evidence to prosecute the five released detainees in a civilian court.
"I am of the view that, if there is, people should be prosecuted," she said. "If there isn't, people are released at the end of the war."
Feinstein added that transferring detainees to maximum-security prisons in the U.S. could be an alternative to Guantanamo.
"We have hundreds of people who have either helped or committed acts of terror in those prisons," Feinstein said. "No one has ever escaped."
The five released Taliban were transferred to Qatar, where they are to be monitored for a year by local authorities. A number of Republican lawmakers who criticized the prisoner swap predicted the five will resume fighting against the U.S.
Obama again defended his decision to carry out the exchange for Bergdahl, saying in an interview with NBC News broadcast last night that, "I would do it again."
'Delicate Situation'
He said Congress didn't get more advance notification because "we had to act fast in a delicate situation that required no publicity."
"It was a difficult piece of business because of the fact that you're dealing with an untrustworthy adversary, not a normal state actor," Obama said in the NBC interview, recorded yesterday while the president was in France for D-Day commemorations. "And we saw an opportunity and we took it."
Obama said that while the freeing of Taliban detainees in this case dealt only with the exchange for Bergdahl, the U.S. will have to contend with more releases as the war in Afghanistan comes to a close.
"By definition, if we, in fact, are ending a war — then there's going to be a process in which some of those individuals are going to be released," Obama said in the interview.