President Barack Obama will visit Cannonball, N.D., today, home of the Standing Rock Sioux Nation, to celebrate increased cooperation between tribal and federal governments. One issue, not on the official agenda but likely on the minds of several Native Americans leaders, is federal regulation of resources and the Keystone Pipeline.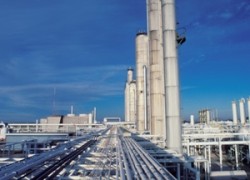 While North Dakota is experiencing one of the greatest oil booms in American history, several area reservations suffer from systemic poverty. In the Standing Rock Nation alone, unemployment rates hover around 80 percent. But in nearby Fort Berthold Reservation, jobless numbers have fallen below 2 percent, tribal officials report. One of the factors contributing to the wildly different unemployment rates is oil.
More than one-third of North Dakota's oil reserves reside within the shared borders of the Mandan, Hidatsa, and Arikara Nations at Fort Berthold. In 2008, the Three Affiliated Tribes signed an agreement with North Dakota that standardized regulation and rules, paving the way for oil development. Now, according to the Associated Press, the tribes net close to $40 million per month from that development.
Windfall oil profits have sparked debate among many in the Native American community about the development of natural resources, and specifically construction of the Keystone Pipeline. The Lakota Nations in South Dakota oppose plans to build the pipeline and fear the "black snake" would threaten sacred ground and waterways. Concerned about the environmental impact of the pipeline, Owe Aku, a matriarch of the Lakota people, told Huffington Post, "as people of the earth, our coming generations have a right to sacred water, no policy, no corporation, no politics should be more important than that."
Tex Hall, the tribal chairman of the Three Affiliated Tribes who will meet with Obama, disagrees. Hall believes that federal deregulation and tribal autonomy hold the key to tribal revitalization. "Let the tribes themselves develop their own regulations and their own rules and laws and support us so we can develop this economy without slowing it down because of bureaucratic red tape," he told the Bemdji Pioneer.
Nick Loris, a senior energy analyst at The Heritage Foundation, believes that the tribes in support of the pipeline represent a larger majority of Americans. "These tribes join a chorus of 60 percent of the American people, unions, Democrats, Republicans and former Obama energy officials," he writes, "who think it's a good idea."
Source material can be found at this site.