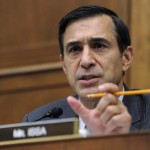 Congressional investigators reacted with outrage to the Internal Revenue Service's claim that it lost two years of Lois Lerner's emails during a period when the agency targeted tea party groups.
"Do they really expect the American people to believe that, after having withheld these emails for a year, they're just now realizing the most critical time period is missing?" said House Oversight and Government Reform Chairman Darrell Issa, R-Calif.
Issa was among a handful of lawmakers to question Friday's admission by the IRS. He was joined by House Ways and Means Chairman Dave Camp, R-Mich., and Sens. Orrin Hatch, R-Utah, ranking member on the Finance Committee, and Ted Cruz, R-Texas.
2 yrs of Lois Lerner's emails were lost? This is beyond unacceptable. Need special prosecutor NOW! http://t.co/4jtLExRli9 #IRS

— Senator Ted Cruz (@SenTedCruz) June 14, 2014
Lerner, former director of the IRS division that processed tax-exempt applications, has repeatedly clashed with Congress over her involvement in the targeting scandal. Under her watch, tea party groups were singled out—facing additional scrutiny or delays in their applications. In May, the House of Representatives voted to hold her in contempt for refusing to cooperate in the investigation.
The IRS blames the lost emails—from a period of January 2009 to April 2011—on a computer crash. It has recovered other emails from Lerner because she copied her IRS colleagues on those messages.
How did the IRS lose two years of Lois Lerner's emails?
"The IRS is committed to working with Congress," the IRS said in a statement to The Associated Press. "The IRS has remained focused on being thorough and responding as quickly as possible to the wide-ranging requests from Congress while taking steps to protect underlying taxpayer information."
Issa, however, said the latest admission raises more questions about who was involved.
"Left to the IRS' own preferences," Issa said, "the White House would still be retelling the lie that this was all about mismanagement confined to a local office.  The supposed loss of Lerner's emails further blows a hole in the credibility of claims that the IRS is complying with congressional requests and their repeated assurances that they're working to get to the truth."
Source material can be found at this site.