Alison Spann was just a kid when her father became the first American killed in the war in Afghanistan. The recent college graduate was shocked to learn the man behind her father's death was freed from Guantanamo Bay by Barack Hussein Obama.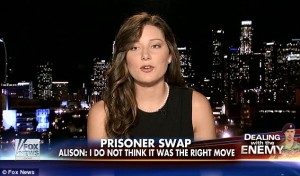 Alison Spann was just 9 when she learned her father, a U.S. Marine turned CIA operative, had become the first American killed in the war in Afghanistan. Thirteen years later, she found out her country had freed the Taliban leader behind his death.

In the time between, Spann has cherished the memory of her father, Johnny Micheal "Mike" Spann, who was killed during a Nov. 25, 2001 prisoner uprising at a northern Afghanistan compound where he was interrogating Taliban fighters. The 32-year-old was buried at Arlington National Cemetery in a ceremony in which he was lauded by then-CIA Director George Tenet for trying to build a "better, safer world." His daughter has since grown up and recently graduated from Pepperdine University, even as more than 2,300 Americans have died fighting in Afghanistan.

But nothing prepared Alison Spann for news that Mullah Mohammad Fazi, the unquestioned leader of the prisoners at the compound where her father was killed, had been traded along with four cohorts held at Guantanamo Bay for U.S. Army Sgt. Bowe Bergdahl, who had been held by the Taliban for nearly five years..

"It does become harder and harder to have faith in an administration that is plagued with scandal after scandal."
– Alison Spann, daughter of first American killed in war in Afghanistan

"My initial reaction was shock. I was shocked that our president would release five of the most high-risk prisoners being held in Guantanamo in exchange for one American," she told FoxNews.com. "As a whole, my family was extremely upset and saddened that our government would do something like this, especially in light of the fact that it seems that people in the intelligence community are fairly united in their belief that these terrorists are likely to seek to further harm Americans in the future."

She has followed the story closely, but still cannot fathom how the country her father loved and fought for could allow his killer to go free.

"It does become harder and harder to have faith in an administration that is plagued with scandal after scandal," she said. "I do not believe that it was the right move by the administration."

Mike Spann died at the Qala-i-Jangi compound near Mazari Sharit in northern Afghanistan, where he was interrogating detainees captured during the early weeks of the war. Fazi, according to his Guantanamo case file, had been deputy defense minister and commander of all Taliban troops in the northern Afghanistan region at the time of the September 11 attacks. Before that, he was accused by Human Rights organizations of personally supervising the murders of thousands of Shiite and Tajik Sunni Muslims.

Although Secretary of State John Kerry has called concerns that Fazi and the other four freed Taliban leaders will return to the battlefield "baloney," Alison Spann considers it only a matter of time.

"You cannot release someone of such a high caliber within the Taliban community and expect him to suddenly emerge as a peaceful being. I would think now more than ever after being detained in Gitmo that he would seek revenge on America," she said. "These prisoners had one goal when they went into Gitmo and I feel certain that they left Gitmo with that same goal, and that is to do harm and spread evil in the world. The implications from this act will reach further than our soil and I am afraid that these prisoners have no plans of standing down from their original fight."

Tenet told mourners at Spann's funeral that it was his "quest for right" that led him to Afghanistan.

"To that place of danger and terror, he sought to bring justice and freedom," Tenet said. "And to our nation – which he held so close to his heart – he sought to bring a still greater measure of strength and security. For Mike understood that it is not enough simply to dream of a better, safer world. He understood that it has to be built – with passion and dedication, in the face of obstacles, in the face of evil."

While Spann is widely regarded as a hero and a patriot, questions have arisen about Bergdahl. Men who served with Bergdahl have said he deserted his post, and Bergdahl's own emails and journal entries appear to support the charge. Alison Spann declined to characterize the circumstances behind Bergdahl's departure from his base in 2009, but said trading with terrorists is not wise policy.

"While I cannot speak on Bergdahl because it seems that there is a lot that is still unclear about him I can say that I do not agree with this POW swap," Alison added. "I believe that the implications from this decision will be seen in the near future."

Mike Spann's star is the 79th star carved on the Agency's Memorial Wall. He also received the Intelligence Star and the Exceptional Service Medallion posthumously.
Alison Spann's father Mike Spann became the first American killed in the war in Afghanistan when he died in November 2001
The dad-of-three, 32, was killed in a prisoner uprising at a compound in northern Afghanistan where he was interrogating Taliban fighters
Mullah Mohammad Fazl was the leader of the prisoners in the compound

He was released from Guantanamo Bay by Barack Hussein Obama two weeks ago with four other Taliban terrorist in exchange for U.S. Sgt. Bowe Bergdahl.