Today's Top Stories
1. Starved of attention, Palestinian detainees ended their  63-day hunger strike. Palestinian sources told the Times of Israel that the hunger strikers were "primarily motivated by a realization that the issue had faded from the public agenda — presumably because of the kidnapping of three Israeli teens and ensuing IDF crackdown."
2. As Iraq spirals out of control, YNet reports Jordan's boosting security cooperation with Israel.
3. France warned its citizens not to invest in Israeli settlements or the Golan Heights. According to Haaretz, "Italy and Spain are expected to publish similar warnings over the next several days" as well.
4. The Committee to Protect Journalists From What? Five days after Palestinian police attacked a CNN crew, why is the Committee to Protect Journalists still silent?
5. "Three young Jewish settlers." Kidnapped Israeli teenagers are inaccurately portrayed as "settlers" by international media with an agenda.
Israel and the Palestinians
• Khaled Mashaal: Kidnapped boys were soldiers.
Throughout the interview, Mashaal was careful in his attempt to both justify armed resistance and at the same time avoid directly confronting PA President Mahmoud Abbas, his partner in a Palestinian unity government declared June 2.

But the Al-Jazeera interview will make it impossible for Abbas to continue cooperating with Mashaal if Hamas's involvement in the kidnapping is proved.
• The Times of Israel reports that a misfired Qassam rocket killed a three-year-old Palestinian girl.
• Matthew Levitt shines a spotlight on Hamas's international finances.
• In a Washington Post QA, Shimon Peres discussed the search for the kidnapped teenagers, the prospects for Israeli-Palestinian peace, and more. Peres arrives in Washington this week for his last meeting with US officials in a government capacity.
• Over at the Sydney Morning Herald, Ori Avi-Guy, Mark Leibler, and Peter Hartcher all weigh in on the terminology of "occupation."
• Staff-eds in the NY Post and National Review slam the Presbyterian divestment issue.
• For more commentary/analysis, see Khaled Abu Toameh (new Palestinian intifada — against Abbas), Rabia Chaudry (What a Muslim American Learned From Zionists), Boaz Bismuth (Israeli mothers try to shake an indifferent world), Michael Curtis (British academic bigots and segregation in Gaza), Karni Eldad (confessions of a rightist who hates the wall), and  Bernie Farber (Israel is a beacon of LGBTQ hope in a hostile Mideast).
Arab Spring Winter
• Jewish religious sites in Iraq, and various Christian churches, are imperiled by ISIS gains. That's because ISIS pledged to destroy shrines. Here's one photo of the group trashing the tomb of Jonah the Prophet, located in Nineveh. ISIS reportedly torched 11 Mosul churches and monasteries in one day.
• The last of Syria's known chemical weapons components were shipped out of the country for destruction. The next step for the Organization for the Prohibition of Chemical Weapons is verification, and the NY Times reports that won't be easy:
It said that verification work was not complete and reminded the Syrian authorities that they have not yet destroyed — as required — a dozen facilities used for making and mixing the munitions. A separate inquiry by the organization into suspected use of chlorine gas bombs in the conflict is also pending.
Rest O' the Roundup
• Israeli, US terror victims now "own" Iran's Internet.
A United States court on Tuesday awarded a group of American and Israeli victims of Iranian terror the rights to the .ir domain, the suffix used to identify Iranian websites, along with all of Iran's IP addresses.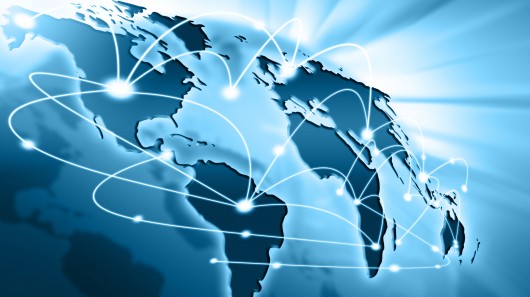 • A Pittsburgh Tribune-Review staff-ed sees straight through the latest UN idiocy:
Coddle Iran, diss Israel: Another UN crock
• Cool stuff: Futuristic hover cars are coming to Tel Aviv.
• Sydney Morning Herald correspondent Jason Koutsoukis comments on life under Hezbollah scrutiny.
"They don't think you're a Mossad agent, but they'll still be listening to your phone calls for a while."
(image of internet via WikimediaCommons/Junior Melo)