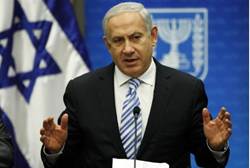 In a policy speech at Tel Aviv U., Prime Minister Netanyahu called for Kurdish independence from Iraq. According to AP, Netanyahu is "the first significant world figure to call for Kurdish independence." The Jerusalem Post points out Bibi's backing  puts him at odds with the US, which prefers to see Iraq remain intact.
Netanyahu also insisted that Israel wouldn't place its trust in the Palestinians or the Jordanians to protect the Jewish state's eastern border from the rising ISIS threat.
Marking the first public show of support, ISIS flags are flying in Gaza.
The Times Follows Up on Its Own Correction: The Times of London amends an article identifying Tel Aviv as Israel's capital city.
Arab Spring Winter
• ISIS declared independence, simply calling its captured Iraqi and Syrian territory "the Islamic State." See AP and Wall St. Journal coverage.
• Has Syria's Chemical Weapons Arsenal Truly Been Dismantled?
• In interviews with Sky News and France 24, Bibi warned that the Iranian nuclear program is a bigger threat than ISIS. The prime minister's media blitz also included interviews with CNN, German, Russian and Chinese stations.
"But I say to Egyptian viewers: if you have no option but to watch the Israeli channels, then to hell with the whole World Cup."
Egyptian sports columnist Khaled Bayoumi on Egyptian soccer fans watching World Cup action for free, as opposed to paying steep fees to watch on other Arab satellite broadcasters.
• For more commentary/analysis, see Abdulrahman Al-Rashed (ISIS has reached Saudi Arabia's borders) and Yakub Halabi (Syria, Iraq should split into smaller, homogeneous states).