President Obama's request for emergency funding to respond to the crisis along the southwest border drew more heat today from two prominent Texans — Gov. Rick Perry and Rep. Mike McCaul, chairman of the House Homeland Security Committee.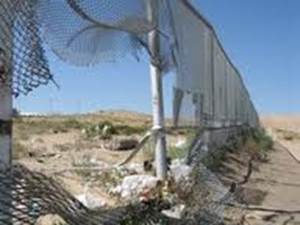 "It is a very large amount of money and as you analyze it, very little of it is for border security," Perry said of the president's $3.7 billion spending plan on "Fox News Sunday."
House Republicans, McCaul said, are "not going to write a blank check."
Last week, Obama met with the Texas governor to discuss his  package to address the surge of illegal immigrants, many of them minors, from Central America. "I urged the governor to talk to the Texas delegation [to Congress], which is obviously at the heart of the Republican caucus … in the House and has great influence in the caucus in the Senate,"  Obama said afterward.
Perry told Fox News' Brit Hume today that the president "doesn't have to have this big amount of money," and instead advocated that 1,000 National Guard troops be positioned along the border as a show of force.
"Because it's the visual of it I think that is most important," Perry said.
And on CBS's "Face the Nation," Perry stressed that in May 2012 he had heightened a standing request for National Guard troops for the Texas-Mexico border by warning the White House of increasing numbers of unaccompanied children crossing the border and the potential consequences. He added:
It could have been stopped years ago, had the administration listened, had the administration been focused on the border with Texas. …. When we asked the president to come [to the border] this last week, he made a decision not to come. Time after time you see a response from this administration that says, 'You know what, we're really not that interested  in the southern border of the United States.'
On ABC's "This Week," McCaul supported Perry's proposal to muster the National Guard and called for a "targeted approach" to the crisis.
"Our view, I think, as House Republicans, is look, we're not going to write a blank check," he said.
Earlier this week, Sen.Ted Cruz, R-Texas,  also criticized the president's funding request.
"It's $3.7 billion, and less than 5 percent of it goes to actual border security," Cruz said  in an exclusive interview with The Daily Signal. "The president's selling it as a border security bill, but it's a social services bill."
Asked about the border situation, U.S. Attorney General Eric Holder told ABC's Pierre Thomas on "This Week" that the administration is enforcing current immigration laws:
Yes, the immigration laws are being enforced, though we are faced with an extraordinary situation. Our immigration laws are broken, that's why we need comprehensive immigration reform.
Many conservatives, however, dismiss such language as cover for granting amnesty to millions of illegal immigrants rather than securing the border, rigorously enforcing the law in employment and other areas, and improving visas and other formal procedures for legal immigration.
Heritage Analysis: Throwing Money at Border Crisis Isn't Solution
Rep. Joaquin Castro, D-Texas, said on NBC's "Meet the Press"  that critics are wrong to call the border crisis Obama's "Katrina moment" — something host David Gregory called unanticipated and "handled incompetently" —  and to criticize Obama for not visiting the border while in Texas for fundraisers. "The fact is that this was not the president's last opportunity to get to the border," Castro said, adding:
I think it 's important for him to go down there at some point … to let people know that he personally is attending to the situation … and also, David, to say thank you to the people of of Texas who have offered food, clothing, shelter, everything they can to these kids to be helpful.
House Judiciary Chairman Bob Goodlatte, R-Va.,whose committee has moved several immigration reform bills,  said on "This Week"  that Congress ought to approve only "targeted" spending on the border crisis, including for resources to hold unaccompanied children from Central America and send them home.
Goodlatte said Obama can do "an awful lot" to deter border crossers without new spending, and should meet with Mexican leaders on what that country can do – especially "securing their southern border with Guatemala."
Despite faulting Obama's funding request,  Republican lawmakers concede that the situation requires a swift response. McCaul said:
We have to act soon. It's a very tragic human crisis at the border, none like I've ever seen before.

Ken McIntyre, news director of The Daily Signal, contributed to this report.
Source material can be found at this site.