Early Thursday afternoon Eastern Time, news broke that a Malaysian Passenger Plane carrying 295 souls may have been shot down over Ukraine. The Boeing 777 carried 280 passengers and 15 crew members.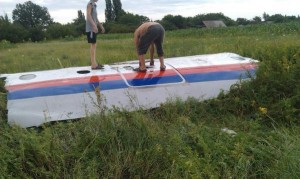 Reuters reports that body parts have been scattered seven miles within the crash site, an indication that the plane came apart mid-air. A Ukrainian Emergency Ministry official told Reuters that first responders have found at least 100 bodies.
Belief has been that Russian separatists do not have that kind of anti-aircraft weaponry. They are now re-evaluating that after launcher similar to the Buk missile system was seen by Associated Press journalists earlier Thursday near the eastern Ukrainian town of Snizhne, which is held by the the Eastern Ukrainian separatists.
Ukrainian foreign minister has officially blamed the Russian equipment for shooting down the Malaysian passenger plane. The announcement included the promise that they will present proof of this claim "soon."
There are some reports that Col. Igor Strelkov, commander of the pro-Russian separatists in the self-proclaimed "Donetsk People's Republic," was taking credit for downing a second Ukrainian airplane today, not realizing that in fact it was the Malaysian airliner. It was mistaken it for a Ukrainian military jet. Kiev has been relentlessly bombing Eastern Ukraine for weeks and the inhabitants of these cities were doing everything they could to protect the citizens of this region.
The separatists deny responsibility (via The Interpreter), but they did claim to shoot down a "Ukrainian transport plane" in the same area earlier today.
And Igor Strelkov, the Russian leader of the separatist "Lugansk People Republic" who is linked to Russian intelligence, claimed that rebels had shot down the "transport plane" in Torez — the same town that the Malaysia Airlines plane went down.
"In the region of Torez AN-26 plane has been shot," he wrote on Russia's version of Facebook. "We have warned them – not to fly 'in our sky.'"
Pro-Russian separatists in Ukraine denied his forces involved in plane crash. "We simply do not have such air defense systems."
It is unknown why passenger jets were flying over an area of conflict, the US FAA had advised American companies to avoid the area as far back as April. On July 8, the State Aviation Administration of Ukraine closed the airspace to civilian aircraft after a military transport plane, which was flying at an altitude of over 20,000 feet, was shot down by rebels
ABC News reports that in the wake of the shooting down of a Malaysian passenger plane over Ukraine (that early reports claim had 23 Americans on board), Obama still chose to go out for a previously scheduled photo-op at a barbecue restaurant, and is out to lunch..
Here's a video reportedly showing the initial moments of the crash:
[youtube -hbAirCuNnA&list=UUr1uG9Rc6UgnwL4x2eorMYw nolink]