By Judi McLeod:  Things that shouldn't be there have a way of turning up at the omnipresent installations of the world's largest bureaucracy known as the United Nations.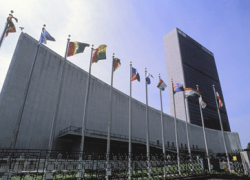 Back in the days when Kofi Annan was UN Secretary General,  it was black boxes from crashed planes unearthed from filing cabinets at UN Manhattan headquarters.
"First came the cockpit voice recorder discovered by reporters collecting cobwebs in a filing cabinet at UN Manhattan headquarters. The black box was discovered in March 2004 at the UN's Air Safety Unit, where it had apparently languished for 10 long years after its arrival by diplomatic pouch from the UN Mission in Rwanda." (Canada Free Press, May 10, 2005)
"Yesterday, in the course of the regular inspection of its premises, UNRWA discovered approximately 20 rockets hidden in a vacant school in the Gaza strip." (Times of Israel, July 17, 2014)
"UNRWA strongly condemns the group or groups responsible for placing the weapons in one of its installations," the agency said in a statement.
This from the officials of the same agency, which has a reputation in Jerusalem of being "exceedingly critical of Israeli policies vis-à-vis the Palestinians," as pointed out by Israel Foreign Minister Avigdor Liberman.
"The officials have been summoned to the Foreign Ministry. They have apologized to Israel for the incident."
With the agency demanding "full respect for the sanctity of its premises in Gaza, UNRWA has launched a comprehensive investigation into the circumstances surrounding this incident.
"When reporters demanded to know why the cockpit recorder was still in a filing cabinet at UN Manhattan headquarters a full decade after a plane crash, Annan spokesman Fred Eckhard jokingly pretended to look under his desk to prove there were not other black boxes in hiding. (CFP)
"The discovery of the box by enterprising reporters was a major embarrassment for the world's largest bureaucracy. Even Annan described it as a "first-class foul-up".
"Within a matter of weeks, a private firm and the U.S. National Transportation board determined that it wasn't likely linked to the 1994 Rwandan crash that killed President Juvenal Habyarimana and his Burundi counterpart Cyprian Ntayamira.
"The two presidents were returning from a meeting of east and central African leaders in Tanzania at which they discussed ways to end the ethnic violence in Burundi and Rwanda." (BBC, April 6, 1994)
"The UN confirmed last June that the reporter discovered black box was not linked to the Rwandan plane crash. (CFP)
"When the black box went missing, Annan not yet Secretary-General, was head honcho in charge of "peacekeeping".
"With Canadian General Romeo Dallaire's pleas for more UN troops ignored, the genocide in Rwanda erupted as the news of Habyarimana's death spread. By the time it was over, more than 800,000 people had been killed, many of them youngsters hacked to death by machete.
"Annan went on to win the Noble Peace Prize and the Prime Minister Paul Martin-led Liberal Government has since appointed Dallaire to the Canadian Senate.
"When the black box arrived at UN headquarters, it was wearing a sticker identifying it as UNAMIR–which spells out the UN Assistance Mission in Rwanda and the date: 6/4/94.
"Even if the black box had been identified as the one coming from the 1994 plane crash, it now seems that the information provided would never have changed the course of events. No one disputes that Habyarimana's fateful flight was intentionally shot down, and there is little the flight data recorder could reveal about who was responsible.
"That's the episode of the black box found locked away in a UN file cabinet.
"Then there are the boxes of evidence turned over to Congress by UN investigators, including "proof" that Annan lied to the independent Paul Volcker Committee probing the Oil-for-Food scandal.
"According to Fox News reporter Jonathan hunt, "One source close to the case told me that in those boxes is the ammunition needed to prove that Kofi Annan lied to investigators," Hunt told Fox News radio host Tony Snow. "So this is a very dramatic development indeed."
"In an editorial headlined: Report Spells the End of Kofi Annan, the Montreal Gazettenoted that Annan's then executive assistant destroyed three years worth of files on Oil-for-Food the day after the Security Council passed a resolution authorizing Volcker's inquiry.
"Just connect the dots," the newspaper said. "What a damning picture it is. Its reputation is already in tatters, the UN stands today weaker than it ever was. Only major governance reforms can save the world body now, and the first order of reform business needs to be finding a credible replacement for Annan."
UNRWA's demanding "full respect for the sanctity of its premises in Gaza now that the horse is out of the barn is a bit of a stretch given that the discovery of the 20 rockets would seem to confirm Israel's oft-repeated claim that Hamas and other Gazan terror groups use civilian infrastructure to hide weapons.
"UNRWA is a United Nations agency established by the General Assembly in 1949 and is mandated to provide assistance and protection to a population of some 5 million registered Palestine refugees. Its mission is to help Palestine refugees in Jordan, Lebanon, Syria, West Bank and the Gaza Strip to achieve their full potential in human development, pending a just solution to their plight. UNRWA's services encompass education, health care, relief and social services, camp infrastructure and improvement, and microfinance." (UNRWA.org, July 17, 2014)
In the same media release explaining their discovery of the 20 rockets, UNRWA took time to remind the media of its yearly deficit: "Financial support to UNRWA has not kept pace with an increased demand for services caused by growing numbers of registered refugees, expanding need, and deepening poverty. As a result, the Agency's General Fund (GF), supporting UNRWA's core activities and 97 per cent reliant on voluntary contributions, has begun each year with a large projected deficit. Currently the deficit stands at US$ 69 million."
An entity unto itself, UN investigations never seem to come up with the facts and truth.
Given UNRWA's dedication in services to Palestinian refugees, some have to wonder if yesterday's media release about their finding 20 rockets in one of their own empty schools may have been prompted by rumours of their existence heading toward 'Breaking News'.