(CNSNews.com) – The nation's food stamp program, formally known as the Supplemental Nutrition Assistance Program (SNAP), provided a record $74.6 billion in benefits to needy Americans in Fiscal Year 2012 — paying out $2 billion too much, according to the annual quality control report for FY 2012, the most recent year for which data is available.
And only in Washington could that $2 billion in overpayments be viewed as a good thing.
Combining the $2,069,402,427 in overpayments with the $484,885,314 in underpayments for fiscal 2012 yields a "payment error rate" of 3.42 percent. "This remains the lowest national payment error rate in the history of SNAP," the report noted. (The 3.42 percent payment error rate is the sum of the FY 2012 overpayment rate — 2.77 percent — and the underpayment rate –0.65 percent.)
The data show the payment error rate has declined over time, from 5.64% in FY 2007; 5.01% in FY 2008; 4.36% in FY 2009; 3.81% in FY 2010; 3.80% in FY 2011; and the record low 3.42% in the latest FY 2012 report.
But over a five-year period, covering most of the Obama presidency, the size of the SNAP program — both in dollars and the amount of overpayments — has greatly increased.
In FY 2008, the SNAP program provided $34,611,397,238 in benefits to recipients. Five years later, in FY 2012, the amount of benefits provided had increased by 115.6 percent, to $74.6 billion dollars. Similarly, the amount of dollars overpaid for benefits increased from $1,386,557,551 in FY 2008 to $2,069,402,427 in FY 2012, an increase of 49.2 percent.
The amount of SNAP overpayments peaked in FY 2011 at $2,147,908,501.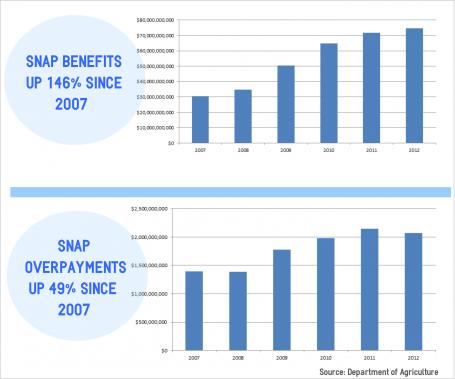 The quality control report presents data from the SNAP program, including annual benefit totals and error rates, based on quality control reviews of a statistical sample of households participating in the SNAP (active cases) and households for which participation was denied, suspended or terminated. Errors include people who were ineligible for benefits and people who received more or less taxpayer money than they should have.
It's up to local agencies to certify households for SNAP benefits and, along with state agencies, they are directly responsible for operating the program. The report says it is up to the states to "ultimately make the commitment to conduct accurate and efficient program operations."
There is considerable financial incentive for states to get their error rates down.
According to the USDA, in Fiscal 2012, a total of $48 million in performance bonuses was shared among "high-performing states" in various categories.
For example, in FY 2012, nine states received millions of dollars for having the best payment error rates. They include Florida (which received a bonus of $8,072,238); Illinois ($4,092,147); Virginia ($2,020,886); Louisiana ($1,945,592); Alabama ($1,897,845); South Carolina ($1,892,369); Wisconsin ($1,842,047); South Dakota ($296,973); and Alaska ($265,714).
Maryland received a bonus of $1,674,189 in FY 2012 for having the "most improved payment error rate."
The USDA report does not say what percentage of the FY 2012 overpayments were the result of fraud.
But last month, USDA announced the availability of a $7-million grant to prevent food stamp trafficking. "Through increased oversight and improvements in program management, the U.S. Department of Agriculture is working to help states reduce SNAP trafficking, the exchange of benefits for cash or other goods and services," USDA said at the time.