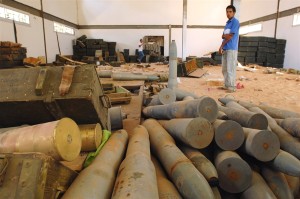 The United Nations Relief & Works Agency For Palestine Refugees (UNRWA) announced Tuesday that another rocket stockpile has been found at one of its schools in Gaza. This instance marks the third time since the beginning of Operation Protective Edge that a weapons arsenal has been found at an UNRWA school in Gaza.
UNRWA has yet to place blame on any individuals or organizations for placing the weapons stockpile within a children's school. The UN body refused to do so on the past two previous occasions as well.
The UN body, after both previous findings, has handed the rockets it had found back into the possession of "the local police," otherwise known as the terrorist group Hamas.
UN Secretary General Ban Ki-moon issued a statement saying he was "alarmed and outraged" by the discovery of rockets in a United Nations Relief Works Agency (UNRWA) school. He "calls on all of those who have any influence over militant groups to send an unmistakable message that this is unacceptable."
[youtube 7jwTLPny0WM nolink]