Israeli Prime Minister Benjamin Netanyahu didn't mince words in a phone call with U.S. Ambassador to Israel Dan Shapiro on Friday.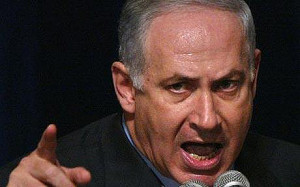 Netanyahu reportedly warned Shapiro that President Barack Obama and his administration was "not to ever second-guess me again," according to sources that spoke on condition of anonymity with The Associated Press.
The phone call came hours after a proposed cease-fire in Gaza quickly crumbled, with one Israeli soldier taken hostage and two more killed during an attack.
While the Obama administration did not blame the abduction on Hamas, officials did say they hold the group responsible for events occurring in the Gaza Strip. Netanyahu told Shapiro he "expected" the U.S., along with the U.N. and other international groups, to help him moving forward with a "strong and swift response," because he knows best how to handle Hamas.
Also in the past fews days it was found Israel claims of Hamas using civilians to hide behind and use for propaganda are in fact true, a supply of missiles was found in a UN funded Elementary school.
Following the quick collapse of the ceasefire in Gaza, the Israeli prime minister also told the Obama not to force a truce with Palestinian terrorist. The strong reaction came as top Israeli officials questioned the effort to forge the truce, accusing the US and the United Nations of being naive in assuming Hamas a terrorist organization would adhere to its terms.
 The Netanyahu government viewed both Hamas and Qatar as having violated the commitment given to the US and the UN and that it expected the international community to take practical steps as part of a "strong and swift response", especially regarding the return of the abducted soldier.