[youtube LrPHgTwvyvU nolink]
If President Obama grants legal status to millions of immigrants in the country illegally through executive action, he will drastically divide the nation and totally discount his presidential pledge, National Journal's Ron Fournier said. Fournier, who believes the immigrants should get legal status, argued executive orders would be the worst way to do it.
"The fundamental reason he became president was he was promising 'There's no red state, there's no blue state — I'm going to bring the country together,'" he said on Fox News on Wednesday. "He's been a polarizing president, and this would be a nuclear bomb that would blow open and make this country even more divided in a way that most Americans just don't want."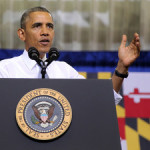 Earlier in the discussion, the Hill's A. B. Stoddard warned of a potential "constitutional crisis" if the president overreached with executive action. She added that "the outrage will be so incredible on the Republican side that it will bring more Democratic losses" in the upcoming midterms.