An Internet video purports to show the beheading of U.S. journalist Steven Sotloff by the Islamic State group.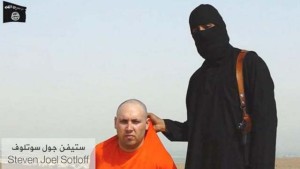 Sotloff, who freelanced for Time and Foreign Policy magazines, had last been seen in Syrian in August 2013 until he appeared in a video released online last month by the Islamic State group that showed the beheading of fellow American journalist James Foley.
    
Dressed in an orange jumpsuit against the backdrop of an arid Syrian landscape, Sotloff was threatened in that video with death unless the U.S. stopped airstrikes on the group in Iraq.
    
In the video distributed Tuesday and entitled "A Second Message to America," Sotloff appears in a similar jumpsuit before he is beheaded by an Islamic State fighter.
The video also threatens the life of British captive, David Haines like the video with Foley beheading threatened Sotloff.
Sotloff speaks to the camera before he is killed, saying he is "paying the price" for U.S. intervention.
The masked ISIS figure in the video speaks to U.S. President Barack Obama, telling him, "Just as your missiles continue to strike our people, our knife will continue to strike the necks of your people."
Last week, Sotloff's mother Shirley Sotloff released a video pleading with ISIS leader Abu Bakr al-Baghdadi not to kill her son.