A new report from Judicial Watch, a government watchdog group, claims that an Islamic terrorist organization is currently operating in Mexican city of Ciudad Juarez, and has a plan to attack the United States along the Mexican border on 9/11. Ciudad Juarez is well known for it's high level of drug crime and sits across the Mexican border from the city of El Paso, Texas, and according to the article ISIS terrorists plan to employ the use of "car bombs or other vehicle borne improvised explosive devices" to attack the United States where it is vulnerable—the border.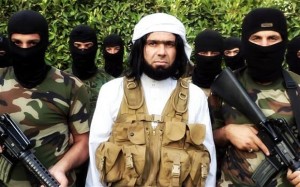 Homeland Security, Justice and Defense Department agents have been placed on high alert "and instructed to aggressively work all possible leads and sources concerning this imminent terrorist threat," Judicial Watch reports. The group is seemingly in contact with multiple high level sources that stated that intelligence officials have recently uncovered radio chatter that indicted that terrorist organizations are going to "carry out an attack on the border." "It's coming very soon," according to another high-level source, who clearly identified the groups planning the plots as "ISIS and Al Qaeda." Another source seemed to validate the impending attack claiming that due to the imminent ISIS threat, the commanding general at Ft. Bliss, the U.S. Army post in El Paso, is being briefed.
Judicial Watch's report is not the first time we have heard about increased radio chatter, while on the Laura Ingraham Show, former CIA cover operations officer Mike Baker stated that he believes there is "a lot of communication" between ISIS and Mexican drug cartels. "We've had good intel over the years about al Qaeda, about their efforts to coordinate with, as an example, Mexican cartels… in an effort to try to exploit our southern border," he said. In addition to Mike Baker's comments, Texas Republican Rep. Ted Poe stated that ISIS and Mexico's powerful and infamous drug cartels are in communication with one another.
The member of the House Judiciary Committee on Crime, Terrorism and Homeland Security said, "In my opinion, yes there seems to be a talking to each other." Adding, "The drug cartels use the same operational plan as terrorist groups do … They kill their opponents, they behead their opponents, they brag about it and they have operational control of many portions of the southern border of the United States. They're vicious as some of these other terrorist organizations."
Despite the recent comments President Obama admitted that the United States and his administration, "don't have a strategy yet" to combat ISIS. During a White House press briefing, Obama attempted to qualm some nerves with the 9/11 13th year anniversary steadily approaching. "I don't want to put the cart before the horse," adding, "I think what I've seen in some of the news reports suggest that folks are getting a little further ahead of what we're at than what we currently are."