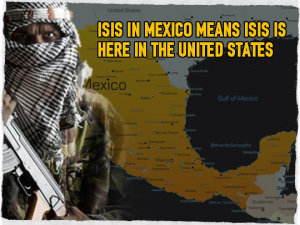 An ISIS terrorist cell has formed just a few miles from El Paso on the Texas border, according to an alert bulletin Sheriff Gary Painter said he received. The Islamic State militants have allegedly converged in Ciudad Juarez, Mexico. The Texas Sheriff sent the ISIS militants a very clear warning during an interview with CNN, "If they rear their ugly head, we'll send them to h**l."
 Midland County Sheriff Gary Painter also said that Texas law enforcement officers have been advised to be on the lookout for any "suspicious, potential terrorist activity." When the local newspaper, the Midland Reporter- Telegram contacted the FBI to garner a comment about the ISIS terrorist cell warning bulletin, the federal agency offered no comment.
As previously reported by the Inquisitr, Infowars reporter Joe Biggs recently dressed as an Islamic State militant, faked a beheading, and then simply walked into Texas carrying a fake head. Biggs stood just inside the United States for several minutes undetected during the viral video. The ISIS fighter crossing the border stunt was reportedly conducted to demonstrate just how easy it is to gain entry into America. According to a Border Patrol report, illegal immigrants from no less than 75 countries have walked into the country so far this year.
Texas Governor Rick Perry has been very critical of President Obama's handling of the border security issue. Perry, like many others both in and out of politics, consider border security also a national security issue. The governor's tough stance on stemming the flow of illegal immigrants and protecting the border could serve him well if he does indeed run for president in the next election.
 The Texas Sheriff also maintains that 10 to 15 million "undocumented aliens" have crossed the border in his area. During a CNN interview Sheriff Painter said, "I think it'd be naïve to say that ISIS is not here. Where is the safety and where is the security for this nation if that's not taking place?"
The sheriff feels that President Obama and federal agencies must take appropriate and quick action to weaken the ISIS leadership, such action would include striking the Islamic State at its source, in Iraq and Syria, the Midland County official added. "What needs to happen is there needs to be enough bombs dropped on ISIS leaders that every time they hear a jet propeller they urinate down both legs," Painter noted.
[youtube YGgJduulOCM nolink]