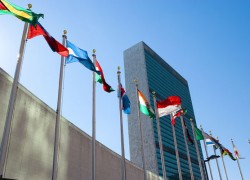 Nabil Shaath to Bloomberg News: The PLO wants the UN to replace the US as the main mediator of the Mideast peace talks. But Haaretz predicts the Palestinian statehood push will go nowhere because the Arabs are more concerned with beating back Islamic extremism.
Both Hamas and Fatah understand that at this stage the most they can achieve is funding for rebuilding Gaza – and only if they can overcome their internal Palestinian conflicts. Abbas' diplomatic initiative will now have to wait as far as the Arab nations are concerned; the war against the Islamic State comes first.
Looks like a US miscommunication by the Obama Administration with Israel led to a breakdown of a Gaza truce last month. According to Israeli media reports,
[T]he Americans mistakenly led Israel to believe that Hamas accepted an unconditional 72-hour cease-fire when in fact the Palestinian Islamist group never gave its consent to a key Israeli demand that it refrain from attacking troops already on the ground in Gaza.
The consequences?
Ninety minutes into the cease-fire, two IDF infantrymen were killed by Hamas operatives in an ambush near Rafah as they were searching for underground tunnels. In the attack, Hamas terrorists ran off with the body of Sec.-Lt. Hadar Goldin, who was later declared killed in action.
The family of slain reporter Steven Sotloff told CNN's Anderson Cooper they believe he was sold by moderate Syrian rebels to ISIS.
The New York Times took a closer look at international governments funding US think-tanks. And it's already creating a backlash in Israel.
More than a dozen prominent Washington research groups have received tens of millions of dollars from foreign governments in recent years while pushing United States government officials to adopt policies that often reflect the donors' priorities, an investigation by The New York Times has found.

The money is increasingly transforming the once-staid think-tank world into a muscular arm of foreign governments' lobbying in Washington. And it has set off troubling questions about intellectual freedom: Some scholars say they have been pressured to reach conclusions friendly to the government financing the research.
What does this thought-tanking mean for Israel? According to the Jerusalem Post:
Israeli government officials on Sunday questioned the impartiality of the prestigious Brookings Institution, the past and present employer of former US Middle East envoy Martin Indyk, following a New York Times report Sunday revealing that Qatar is a major contributor to that think tank.