By Judi McLeod
The three Afghan military officers who so infamously went AWOL from a military training exercise in Cape Cod ending up in Niagara Falls, Canada,  crossed over the wrong border.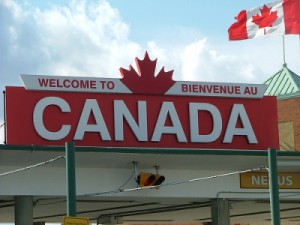 If they had taken a different route to freedom over the porous U.S. southern border, they would have made it to the same kind of freedom millions of others of aliens have—and could even have one day sent back home for their wives and relatives to boot.
Maj. Jan Mohammad Arash, Capt. Noorullah Aminyar and Capt. Mohammed Nasir Askarzada hired a waiting taxi at a Walmart for a more than 500-mile, $1,600 cab ride from Cape Cod to Niagara Falls. (STARS AND STRIPES, Oct. 1, 2014)
The trio, one of whom has an uncle in Canada,  thought they were hitching a ride to freedom to the Canadian border when they took their last walk as free men across the Rainbow Bridge connecting New York to Ontario, Canada, to claim refugee status on September 22.
Instead they were promptly turned over to U.S. authorities—who charged them with immigration violations—and began removal proceedings.
The three Afghanis were handed over to the United States under a U.S.-Canada agreement that requires asylum seekers to apply in the first country they land in.
Americans overwhelmed by thousands of illegal aliens at their country's open southern border, some carrying communicable diseases like Tuberculosis but hopefully not Ebola; some (MS-13 gang members,  convicted murderers, rapists and assorted Islamist terrorists) bearing ill intent for America's hapless citizenry can certainly attest to that!
The three Afghan soldiers who left the Cape Cod military base for the Land of the Maple Leaf, where relatives said they'd be safe, knew they couldn't return home even before heading out for Canada.
The fearsome Taliban does not take kindly to Afghan soldiers training on American soil and the three soldiers are now singing jail blues with their pictures splashed around all worldwide newspapers.
"Our pictures are in the newspapers in Afghanistan, Pakistan and all around the world. Now our government has turned against us," Arash, 49, said inside the federal detention facility outside Buffalo, where they are being held. (Stars & Stripes)

"All said they feared they would be killed or imprisoned and tortured if returned to Afghanistan.

"'I felt like I was reborn again and I had become free and alive', Askarzada, 28, said of the trip through Massachusetts and into New York. He and Arash answered questions in Farsi, which was translated by their attorney, Matthew Borowski. Aminyar spoke in English.

"Askarzada said he has an uncle in Canada and that the three planned to seek him out for help in eventually bringing their families there as well. All are married and have children. Askarzada said his wife is pregnant.

"Aminyar said he had been targeted by the Taliban in his village of Khowgni because of his work with U.S. soldiers in killing and capturing Taliban fighters. A platoon leader and company commander, the 30-year-old said he was marked for death after taking part in military training in the United States in 2012 and again in September.

"While he was participating last month in a U.S. Central Command Regional Cooperation training exercise at Joint Base Cape Cod, Aminyar said, Taliban fighters went to his Afghanistan home intending to kill him, leading to a frantic phone conversation with his father.

"He told me: 'Your life is in danger. There is no chance for you to live in Afghanistan,'" Aminyar said, sitting at a stainless steel table inside a cinder block interview room. "I talked with my wife. She told me I should not return. I have to go to Canada."

"He and Askarzada decided to use the Walmart excursion to make their way to the border, joined by Arash, who also had gone to the store.

"I was feeling like I got my freedom. I was happy with my decision. I felt like I made a good decision to save my life," Aminyar said.

"We never thought that we would be brought here to a prison," Arash said, motioning to his bright blue detention center jumpsuit, "because we didn't do anything harmful."
"At an initial court appearance Wednesday, Borowski was given until Oct. 8 to review the government's case and prepare a bail request.

"My goal is to secure the release from immigration custody of these Afghani service members as soon as possible," Borowski said. "They pose no threat. These guys are just seeking somewhere where they won't be threatened and persecuted."

"The exercises in which they were participating have been held annually since 2004 to promote cooperation and interoperability among forces, build functional capacity, practice peacekeeping operations and enhance readiness.

"U.S. authorities have said they do not think the men posed any danger to the public."
Meanwhile, the current American administration makes a big play of compassion in letting thousands of undocumented aliens in over the U.S. southern border, but have no compassion for Afghan soldiers they welcome into their country for military exercises.
MS-13 gang members, disease infected aliens and assorted terrorists will be part of Obama's coming Amnesty—but no Afghan soldiers who fought for America.
That's not just non-compassionate, it's downright racist.
Judi McLeod is an award-winning journalist with 30 years' experience in the print media. A former Toronto Sun columnist, she also worked for the Kingston Whig Standard. Her work has appeared on Rush Limbaugh, Newsmax.com, Drudge Report, Foxnews.com, and Glenn Beck.
Judi can be emailed at: [email protected]