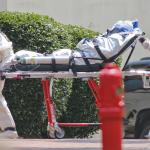 A jaw-dropping report released by the World Health Organization on October 14, 2014 reveals that 1 in 20 Ebola infections has an incubation period longer than the 21 days which has been repeatedly claimed by the U.S. Centers for Disease Control. WHO is also warning that 10,000 new cases of Ebola a week are possible.
[youtube 0mA2rOd1pbY nolink]
The UN says the ebola outbreak must be controlled within 60 days or else the world faces an "unprecedented" situation for which there is no plan.
[youtube hLEWcMHnfK8 nolink]
The Ebola outbreak could grow to 10,000 new cases a week within two months, the World Health Organisation warned on Tuesday as the death toll from the virus reached 4,447 people, nearly all of them in west Africa.
Dr Bruce Aylward, the WHO assistant director-general, told a news conference in Geneva that the number of new cases was likely to be between 5,000 and 10,000 a week by early December.