While President Barack Obama has finally caved to one demand from congressional Republicans on Ebola—appointing a single point person, or Ebola Czar, to handle the response—the person he appointed, conservatives say, is an incompetent political hack.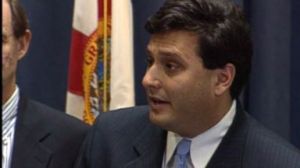 Obama's new Ebola Czar is Ron Klain, the former chief of staff to Vice President Joe Biden and to former Vice President Al Gore.
"Leave it to President Obama to put a liberal political activist in charge of the administration's Ebola response," Rep. John Fleming (R-LA) said in a statement on Friday. "If reports are true, his so-called Ebola Czar will be someone with no medical background, but who was responsible for administering the failed 2009 Obama stimulus program. Yet again, this president is more concerned with ideology than competence."
Fleming went on to call for Centers for Disease Control and Prevention (CDC) director Tom Frieden to resign.
"If the Obama Administration wants to gain the faith of the American people in the face of a serious public health threat, they should start with a travel ban on people coming from Ebola hot zones, and a CDC Director who will ensure that there are select medical centers that are fully-equipped and trained to handle Ebola patients. The testimony we heard yesterday from Dr. Tom Frieden added to my existing concerns about his ability to handle the crisis. The time has come for the CDC Director to resign."
Radio's Rush Limbaugh lit into Obama for the decision to appoint someone like Klain, too, saying on Friday that Klain was "in charge of who got what in the porkulus bill" and "in charge of political payoffs," adding that this is "pure 100 percent politics."
Obama's decision to finally appoint someone to handle the crisis comes weeks after many congressional Republicans demanded that he do so—calls to action Obama originally ignored until after Thomas Eric Duncan, the Liberian man who was the first person diagnosed with Ebola in the U.S. after lying to immigration agents to get into America, infected two American nurses who cared for him. Nina Pham and Amber Vinson, the two nurses infected by Duncan, contracted the deadly virus while caring for Duncan using arbitrary CDC "standards" for care while Duncan was in Texas Presbyterian Hospital in Dallas, Texas.
In addition to helping advise who got what money as part of the 2009 Obama stimulus bill, Klain also helped Obama with the Solyndra scandal—approving the president for a visit to the failed energy company before the 2012 election.
"The reality is that if POTUS visited 10 such places over the next 10 months, probably a few will be belly-up by election day 2012," Klain wrote in an email to Valerie Jarrett ahead of Obama's May 2010 visit to Solyndra headquarters.